Blueberry Chia Coconut Slice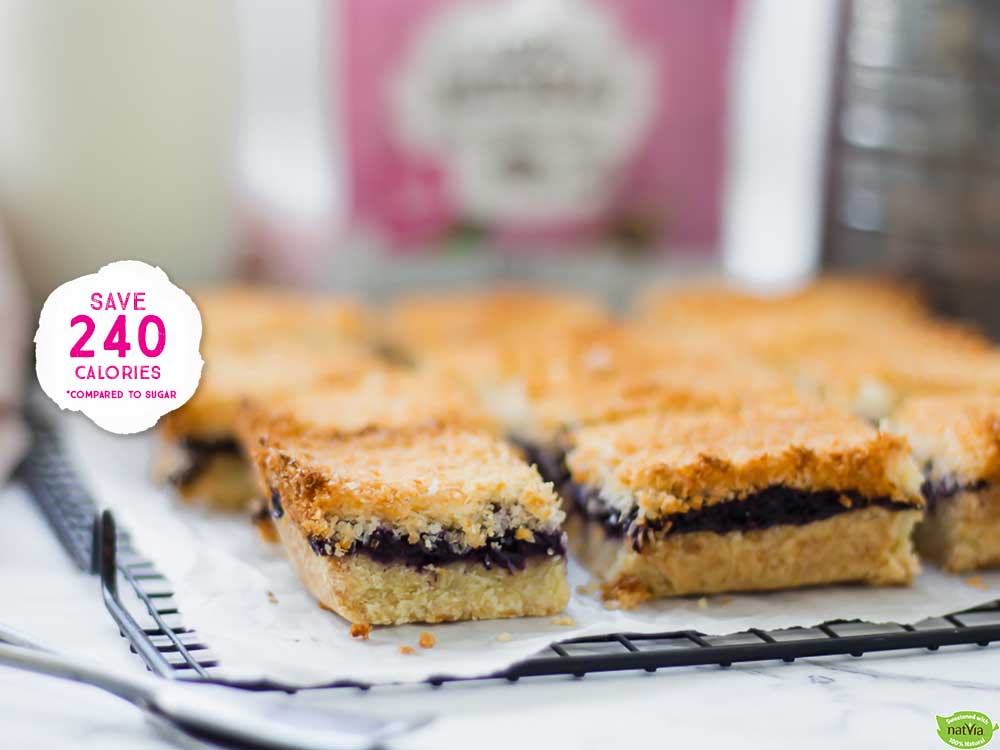 Recipe by
Eatnik
. We absolutely LOVE slices and this Blueberry Chia Coconut Slice is a perfect example of why! Bite in and discover for yourself!
Liked this recipe? SAVE it to your collection. You can find more sugar-free recipes like this one and more over on our Youtube at Healthy Treats. 
Serves: 16
Prep: 15 minutes
Cook: 30 minutes
Ingredients
FOR THE JAM:
300 g Frozen blueberries
1.05 tablespoon Natvia
1 teaspoon Vanilla extract
2 tablespoon Chia seeds
FOR THE SLICE:
450 g All-purpose flour (3 Cup)
63 g Natvia (1/3 Cup)
125 g Butter, cold and chopped
2 Large eggs
1 teaspoon Vanilla extract
160 g Desiccated coconut (2 Cup)
Method
To make the jam, add frozen blueberries to a saucepan and place on the stove over medium to low heat. As the blueberries begin to break down, smash them with a fork to let out the juices.
When the blueberries become nice and mushy, add Natvia, vanilla and chia seeds. All jam to boil before lowering the heat to a simmer. Simmer for 5-10 minutes over a very low heat before removing from the stove.
To make the slice, preheat oven to 180ºC. Line a square brownie tin with baking paper. In a bowl, combine flour and Natvia. Add cold, chopped butter and rub between fingers until the mixture becomes sand-like.
Make a well in the centre and add one egg and the vanilla extract. Mix thoroughly until a dough forms and press into your prepared tin. Bake for 15 minutes, until lightly golden.
In the meantime, combine desiccated coconut and remaining one egg. Once base is cooked, pour over blueberry jam and top with coconut mix. Bake for a further 15 minutes.
Top should be nice and golden brown once baked. Allow to cool before slicing and serving.
| | | | | | |
| --- | --- | --- | --- | --- | --- |
| Carbs | Pro | Fats | Energy KJ | Calories | Serving size |
| 21.6g | 4.8g | 14.2g | 1020 | 244 | 75.5g |