CHOC HAZELNUT BROOKIES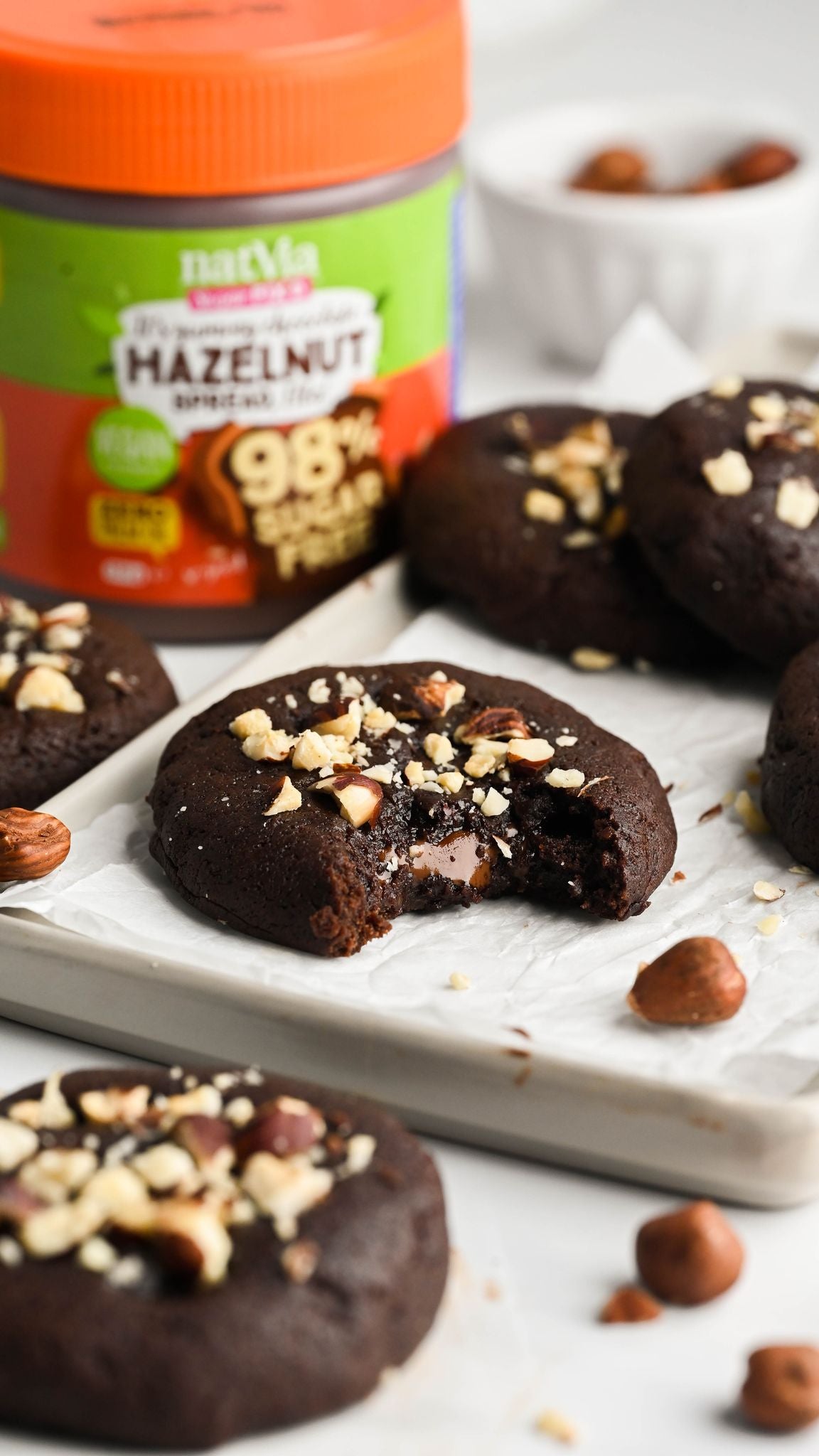 Must try these easy and delicious Chocolate Hazelnut Brookies! Swirled through with Natvia Hazelnut Spread, it is definitely one to impress friends and family!
Serves: 6
Prep: 10 minutes
Cook/Chill: 30 minutes
Ingredients
COOKIES:
Natvia Chocolate Hazelnut Spread (125g)
Coconut yoghurt (80g)
Natvia Baking Pouch (40g)
Plain Flour (120g)
Cacao powder (15g)
FILLING:
Natvia Chocolate Hazelnut Spread (50g)
TOPPINGS:
Hazelnuts, chopped (30g)
Method
Preheat Oven to 160 degrees elcius and line a tray with baking paper.
To make the cookie dough, chocolate hazelnut spread, coconut yoghurt and baking pouch sugar alternative to a medium bowl and whisk until smooth.
Add the flour and cocoa powder and mix until a soft dough forms.
Divide the dough into 12 balls and flatten out into desired thickness. Use the back of a spoon to make a small indent in the middle of each brookie.
Add a spoonful of chocolate hazelnut spread into the middle of half of the brookies then pair them up with one without the filling.
Use your fingers to seal the dough together by pressing the edges down. Carefully reshape and place onto the prepared tray to bake.
Place in the oven to bake for 7mins, allow to cool slightly then ENJOY!!
| | | | | | |
| --- | --- | --- | --- | --- | --- |
| Carbs | Pro | Fats | Energy KJ | Calories | Serving size |
| | | | | | |