Delta Creams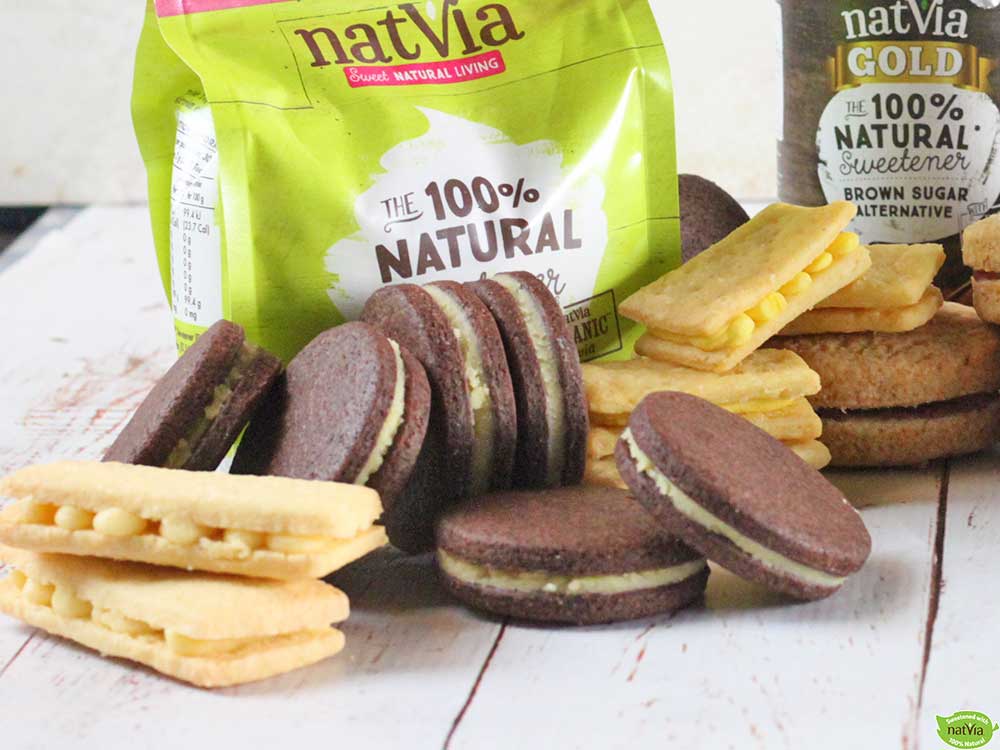 These chocolatey treats are just as delicious as the original, except ours ditch all the extra added sugar and are gluten-free. Try them for yourself and see! Liked this recipe? SAVE it to your collection. You can find more sugar-free recipes like this one and moreover on our Youtube at Healthy Treats.
Serves 24 whole biscuits
Prep 45 minutes
Cook 15 minutes
Ingredients
250 g unsalted butter, softened
149 g Natvia (3/4 cup)
1 teaspoon vanilla
1 egg
70 g Cacao, sifted
175 g gluten-free plain four, sifted
105 g gluten-free self raising flour, sifted
Filling:
125 g unsalted butter, at room temperature (1/2 cup)
149 g Natvia, blitzed until fine consistency (3/4 cup)
1 teaspoon vanilla
Method
Preheat Oven to 160C (fan forced). Line 2 baking trays with baking paper.
Beat the butter, Natvia and vanilla together until pale and creamy. Add the egg and beat again.
Add the sifted flours and mix to combine.
Shape the dough into a ball and wrap in plastic wrap. Place into the fridge for 10 minutes.
Once chilled roll between 2 sheets of baking paper so it is ½ cm thick. Place back in the fridge for 10 minutes or until firm.
Use a round cutter to cut the biscuits from the dough. Place on the prepared tray and bake for 12-15 minutes or until firm. Cool on the tray for 5 minutes before transferring to a wire rack to cool completely.
To make the filling, combine all of the ingredients in a bowl. Beat until light and fluffy.
Spoon the filling into a piping bag. Pipe some of the filling onto the base of half of the biscuits. Sandwich together with the remaining biscuits.
| | | | | | |
| --- | --- | --- | --- | --- | --- |
| Carbs | Pro | Fats | Energy KJ | Calories | Serving size |
| 9.7g | 1.4g | 13.3g | 706kj | 168 | 41g |