Easy Marble Cake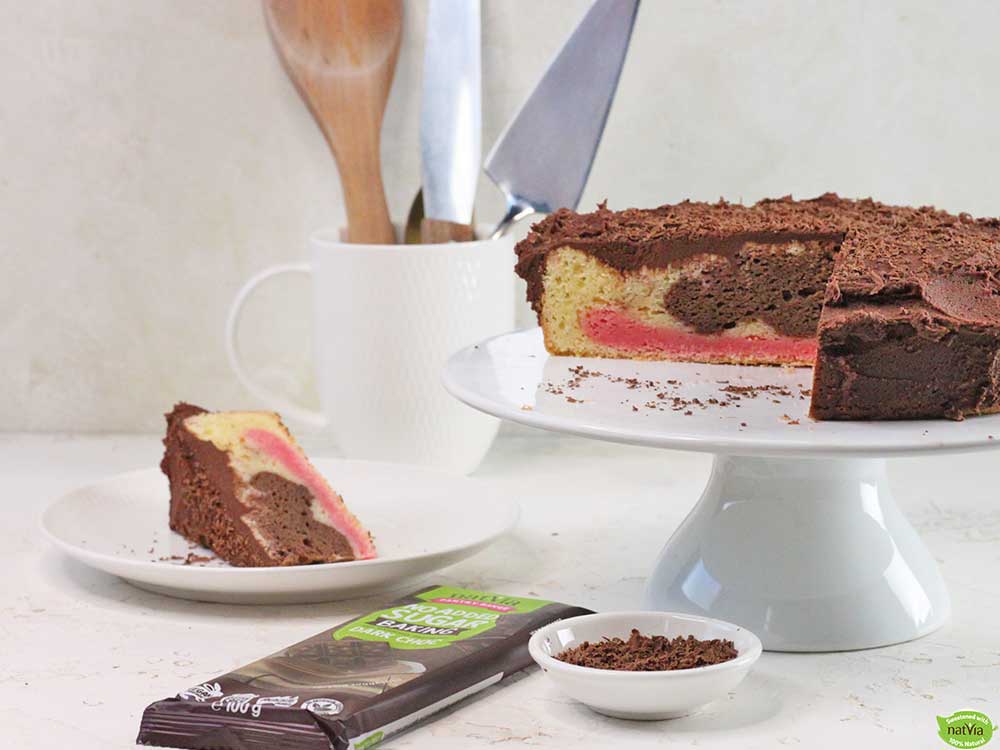 Isn't this cake gorgeous? Try this classic recipe with a new twist with Natvia Sugar Free Sweetener! Liked this recipe? SAVE it to your collection. You can find more sugar-free recipes like this one and moreover on our Youtube at Healthy Treats.
Serves 12
Prep 25 minutes
Cook 50 minutes
Ingredients
200 g Unsalted Butter, melted
224 g Natvia (1 cup + 2 tbsp)
1 teaspoon Vanilla
3 Eggs
280 g Gluten Free Self Raising Flour (2 cups)
200 mls Milk
Rose Pink Food Colouring
2 tablespoon Cacao
Icing:
125 g Butter, softened
1 teaspoon Vanilla Essence
150 g Natvia, blitzed to fine consistency
4 tablespoon Cacao
Natvia Dark Chocolate, grated (optional)
Method
Preheat oven to 160C (fan forced). Grease and line a 20cm round cake tin.
n a stand mixer on medium speed, beat the butter, Natvia and vanilla until light and fluffy.
Add the eggs one at a time, beating well after each addition. Add 180ml milk, xanthan gum and flour. Beat for a further minute or until combined.
Divide the mixture into 3 bowls. Add the cacao and the remaining 20ml of milk to one of the bowls. Mix to combine.
Add a few drops of the pink food colouring to another bowl and stir to combine. Keep the mixture in the third bowl plain.
Spoon the mixtures into the prepared cake tin. Use the back of a butter knife to run through the mixtures to create a marbled effect.
Bake for 50 minutes or until a skewer inserted comes out clean. Leave to cool for 5 minutes in the tin before transferring to a wire rack to cool completely.
To make the icing, combine the ingredients in a bowl. Mix until smooth and creamy. Spread evenly over the cooled cake.
| | | | | | |
| --- | --- | --- | --- | --- | --- |
| Carbs | Pro | Fats | Energy KJ | Calories | Serving size |
| 21.5g | 3.5g | 24.5g | 1370kj | 327 | 105g |