Golden Gaytime Cheesecake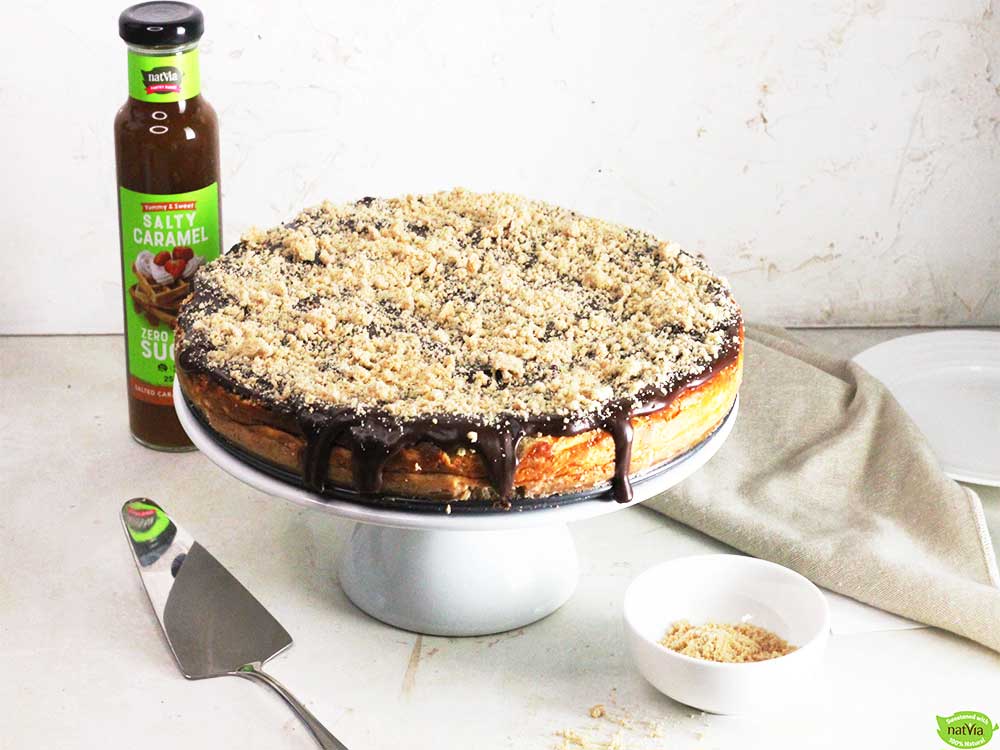 This gluten-free cheesecake dessert has a taste of nostalgia. A twist on the classic Golden Gaytime that everyone will love! Liked this recipe? SAVE it to your collection. You can find more sugar-free recipes like this one and moreover on our Youtube at Healthy Treats.
Serves 12
Prep 1 hour
Cook 1 hour + 35 minutes
Chill Overnight
Ingredients
250 g Unsalted Butter, melted
50 g Natvia Gold
425 g Natvia Salty Caramel Sauce
3 teaspoon Vanilla
180 g Gluten Free Plain Flour
500 g Cream Cheese
300 mls Sour Cream
4 Eggs
50 g Natvia
160 g Natvia Dark Baking Chocolate
3 tablespoon Milk
Method
Preheat oven to 180C and line a baking tray with baking paper.
Place 110g of the butter in a stand mixer and beat until creamy.
Add the vanilla, Natvia and salty caramel sauce. Mix until combined.
Add the flour and continue to beat until a dough forms.
Roll into small balls and place on the prepared baking tray. Use the back of a fork to press them down (the size should resemble a 20c piece).
Bake for 18-20 minutes or until golden.
Remove from the oven and allow to cool on a wire rack.
Once cooled place all of the biscuits except for 3 in a food processor. Add the remaining 90g of butter and blitz until it resembles wet sand.
Press the mixture into a 20cm springform tin and place back into the oven to cook for 12-15 minutes or until golden. Remove and set aside to cool.
In a stand mixer combine the softened cream cheese and Natvia. Beat until soft and creamy.
Add the vanilla and sour cream and continue to beat.
Add the eggs one at a time, beating between additions. Beat until smooth.
Pour 1/3 of the caramel mixture into a bowl and set aside.
Pour ½ of the caramel mixture onto the cooled cheesecake base. Pour the vanilla mixture over the top and then top with the remaining caramel mixture.
Bake for 1 hour (the mixture will still look very runny). Turn off the oven and allow to cool inside.
Once cool, cover and transfer to the fridge. Allow to set ideally overnight.
Once set make the ganache by placing the milk and butter in a small saucepan over a medium heat.
Once the butter is melted, remove the saucepan from the heat and add the chocolate.
Mix until the chocolate has melted. Set aside for 2 minutes to thicken.
Blitz the remaining 3 biscuits to crumbs (fine and coarse crumbs are ideal for texture).
Pour the cooled ganache over the set cheesecake and top with the crumbs. Place back in the fridge until you are ready to serve.
| | | | | | |
| --- | --- | --- | --- | --- | --- |
| Carbs | Pro | Fats | Energy KJ | Calories | Serving size |
| 16.7g | 7.8g | 46.3g | 2180kj | 521 | 165g |