Jam Lamingtons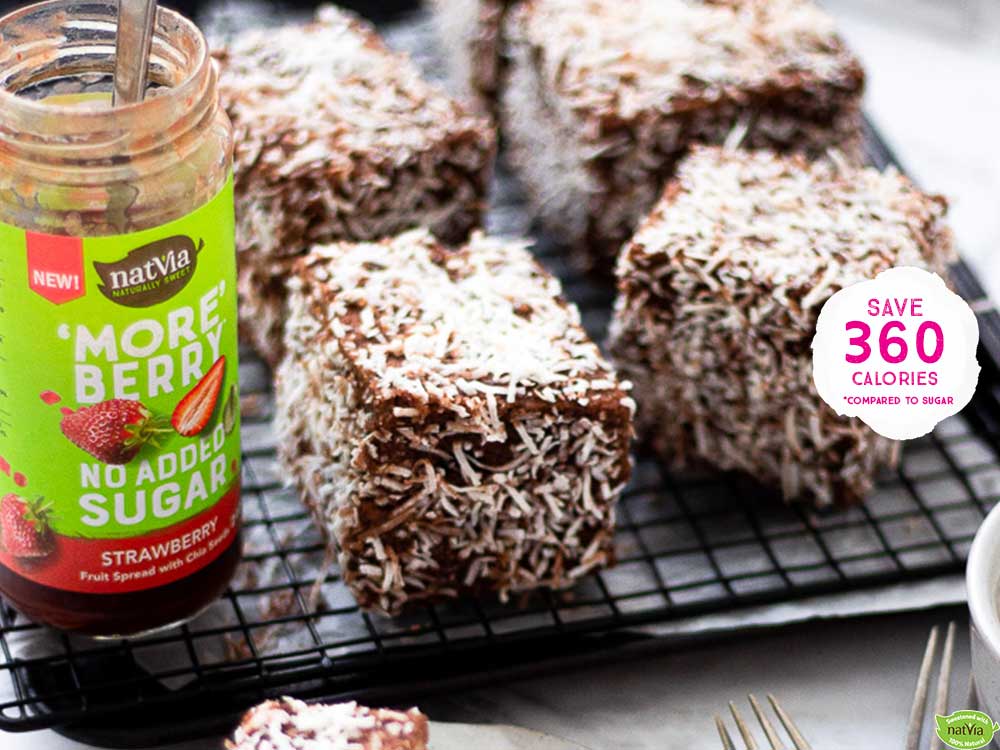 Recipe by
Eatnik0nline
Baked using our
Natvia Strawberry Fruit Spread
- ZERO added sugar, real fruit, with just 1.7g of carbs per serve! Entertain with these delicious Jam Lamingtons. Everyone's favourite finger dish, these lamingtons will go down a treat. What's better is that they're made with our Fruit Spreads ensuring this dish is ZERO added sugar!
Liked this recipe? SAVE it to your collection. You can find more sugar-free recipes like this one and more over on our Youtube at Healthy Treats. 
Serves: 10
Prep: 10 minutes
Cook: 20 minutes
Ingredients
250 g Butter, softened
95 g Natvia (1/2 cup)
4 Large eggs, at room temperature
350 g Self-raising flour, sifted (2 1/3 cup)
1 teaspoon Vanilla
190 g Milk (3/4 cup)
FILLING:
1 cup Natvia Strawberry Jam (240g)
COATING:
350 g Nuttvia (2 cups)
25 g Cocoa Powder (1/4 cup)
1 tablespoon Unsalted butter
112 g Boiling water (1/2 cup)
80 g Coconut, shredded (1 cup)
Method
Preheat oven to 190ºC. Prepare two brownie tins and line with baking paper.
Place butter and sugar into a bowl and cream using an electric mixer until light and fluffy. Add eggs one at a time, beating in between.
Slow down mixture to a low speed and add in flour and vanilla. Once well incorporated, add in milk and mix until batter is smooth.
Divide batter evenly between prepared tins and place into the oven for 20 minutes. Remove from tins on to a wire rack and allow to cool completely.
To make the chocolate coating: place Natvia, cocoa powder and butter in to a bowl and pour over boiling water. Whisk to dissolve Natvia until you have a smooth mixture.
To assemble the lamington, trim the tops and sides of each slab of cake to ensure they are both even. Spread jam on one side, and top with the other slab of cake.
Cut into ten even serves. Take your lamington and dip into the chocolate coating until fully covered. Roll in shredded coconut. Repeat with remaining lamingtons.
| | | | | | |
| --- | --- | --- | --- | --- | --- |
| Carbs | Pro | Fats | Energy KJ | Calories | Serving size |
| 33.8g | 7.8g | 26.6g | 1605 | 382 | 1 lamington |