Lemon Thyme Shortbread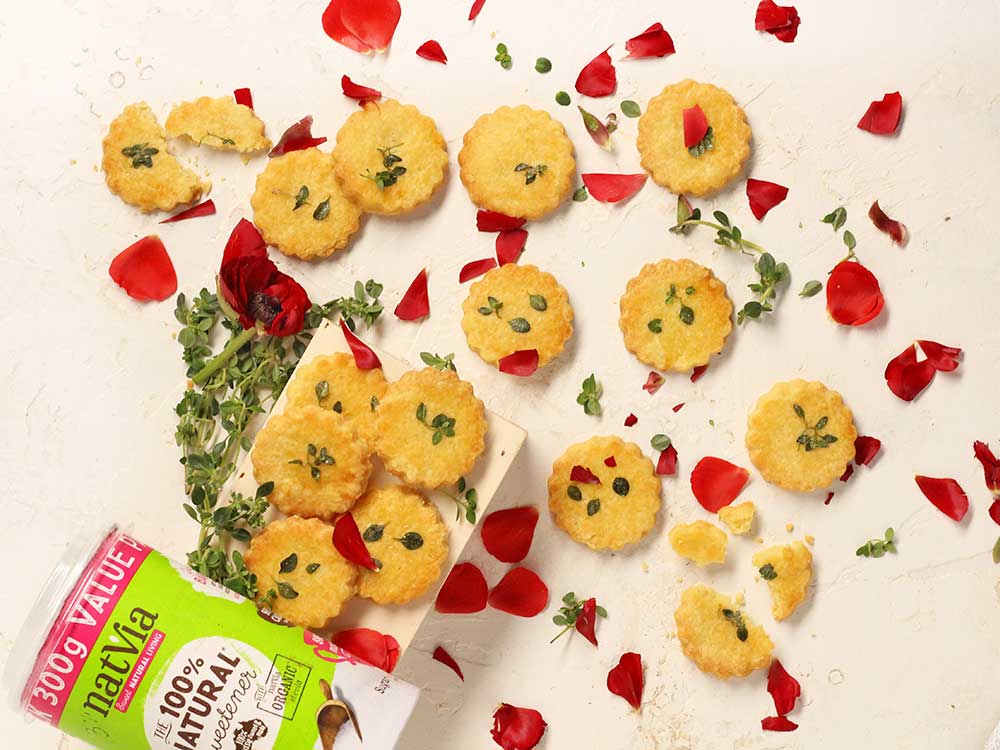 We all know the usual flavoured biscuits (chocolate, peanut butter, and vanilla) are delicious but why not explore new flavours like this Lemon Thyme Shortbread recipe!
Find all of our Christmas recipes here!
Liked this recipe? SAVE it to your collection. You can find more sugar-free recipes like this one and more over on our Youtube at Healthy Treats. Liked this recipe? SAVE it to your collection
Serves: 16-18
Prep: 30 minutes
Cook: 12 minutes
Ingredients
125 g unsalted butter
1 tablespoon vanilla bean paste
60 g Natvia (1/3 cup)
150 g plain flour (1 cup)
1 tablespoon cornflour
egg white
sprigs of lemon thyme
Method
Preheat the oven to 180C.
Beat the butte with the vanilla and Natvia until creamy. Add the flour and cornflour. Beat on low until combined.
Lightly dust the bench top and then quickly bring the dough together by lightly kneading. Lightly flour a rolling pin and roll out.
Cut with a small cookie cutter and place each cookie on a baking paper lined oven tray.
Bake for 8 minutes. Remove from the oven and, working quickly brush the tops of the cookies with egg white an then place the leaves of the lemon thyme on top. Brush over the top with egg white. Bake for another 3-5 minutes.
Remove from the oven and stand on the tray for -3 minutes. Remove to a wire rack until cooled.
TIP: You can use any type of herb you like or even edible flowers.
| | | | | | |
| --- | --- | --- | --- | --- | --- |
| Carbs | Pro | Fats | Energy KJ | Calories | Serving size |
| 7.6g | 1.5g | 6.9g | 416 | 100 | 25g |