Low Cal Strawberry Cheesecake Bars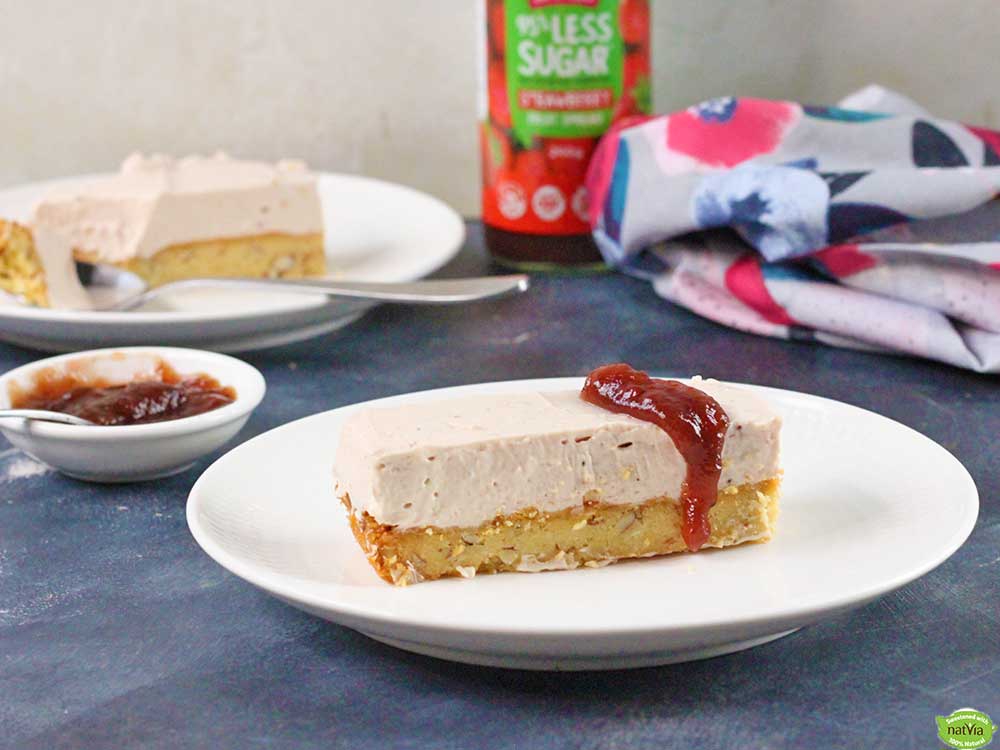 Cheesecake makes the perfect indulgent dessert, but is so often high in calories. We save a few with our no-added-sugar Natvia swaps meaning you can indulge any time of the week. Try this delicious low-carb treat today! Liked this recipe? SAVE it to your collection. You can find more sugar-free recipes like this one and moreover on our Youtube at Healthy Treats.
Serves 12
Prep 40 minutes
Chill 6 hours - Overnight
Ingredients
230 g Almond Meal (2 cups)
80 g Almonds, finely copped (1/2 cup)
125 g Unsalted Butter, melted (1/2 cup)
1 tablespoon Natvia
Filling:
200 g Natvia Strawberry Fruit Spread, plus extra for serving
2 tablespoon Natvia, blitzed to fine consistency
500 g Cream Cheese, softened
1 teaspoon Gelatine
1 tablespoon Hot Water
Method
Preheat oven to 180C. Grease and line a 20cm x 20cm cake tin.
In a bowl combine all of the ingredients for the base and mix. Once combined, pour into the prepared cake tin, pressing it down firmly and ensuring it's evenly dispersed.
Bake for 15-18 minutes or until golden.
In a stand mixer, beat the cream cheese and Natvia together using the paddle attachment.
In a small bowl combine the hot water and gelatine and stir, until the gelatine is dissolved.
Add the fruit spread to the cream cheese mixture and continue to beat until smooth.
Add the gelatine and mix again.
Pour the mixture onto the cooked and cooled base, smoothing the top.
Transfer to the refrigerator to set (ideally overnight).
To serve, top with extra Natvia strawberry fruit spread.
| | | | | | |
| --- | --- | --- | --- | --- | --- |
| Carbs | Pro | Fats | Energy KJ | Calories | Serving size |
| 3.4g | 9.1g | 36.2g | 1580kj | 378 | 92g |