Matcha Sheet Pancakes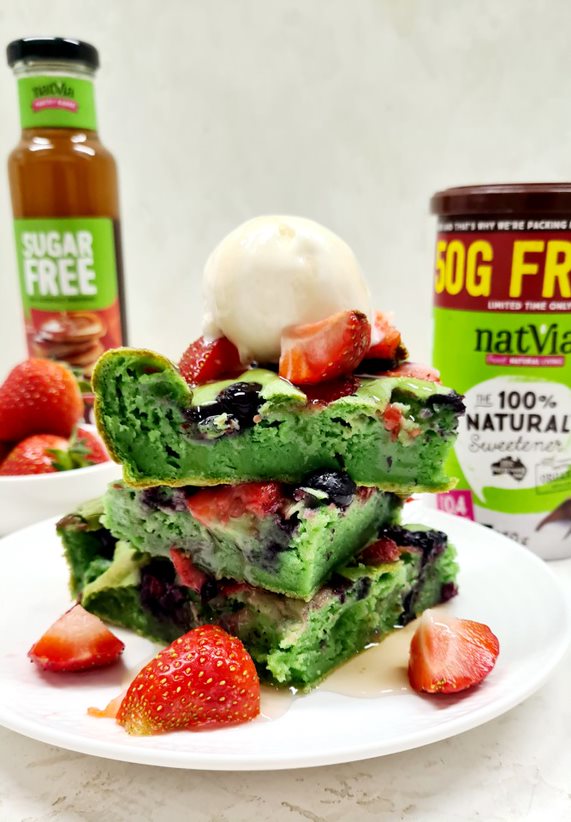 This delicious, moist, mouth watering Matcha Sheet Pan Pancakes is definitely a winner! This simple and easy recipe is perfect for an healthy afternoon snack with no added sugars or bake it to impress your friends and family for dessert served with ice cream and delicious healthy topping on top! Not only does it taste amazing it is healthy, with no added sugars and gluten free!!
Nutritional Information Tips/tricks 
For a decadent dessert top with sugar free ice cream, nuts and Natvia Maple Flavoured Syrup.

 
Nutritional information is per piece with 1 tablespoon of Natvia Maple Flavoured Syrup.   

 
Serves: 16
Prep: 10 minutes
Cook/Chill: 20 minutes
Ingredients
420g Gluten Free Self Raising Flour
1½ tbsp Natvia
1/2 tsp Salt
625ml Milk (2 ½ cups)
2 Eggs
160g Unsalted Butter, melted
4 tsp Matcha
250g Strawberries, sliced
150g Blueberries
Natvia Maple Flavoured Syrup
Method
Preheat oven to 200C (fan-forced) and line the bottom of a 30cm x 40cm baking tray with baking paper.
Place the egg and Natvia in a large bowl and whisk to combine.
Add the milk, flour, butter, salt and matcha and whisk until smooth and creamy.
Pour into the prepared tray and scatter the strawberries and blueberries over the batter.
Bake for 20-25 minutes or until a skewer is inserted comes out clean.
Once cooked remove from the oven and allow to cool for 10 minutes in the tray before removing from the pan.
Slice and serve topped with Natvia Maple Flavoured Syrup
| | | | | | |
| --- | --- | --- | --- | --- | --- |
| Carbs | Pro | Fats | Energy KJ | Calories | Serving size |
| 25.9g | 3g | 10.5g | 937kJ | 224 | 116g |