Monte Carlos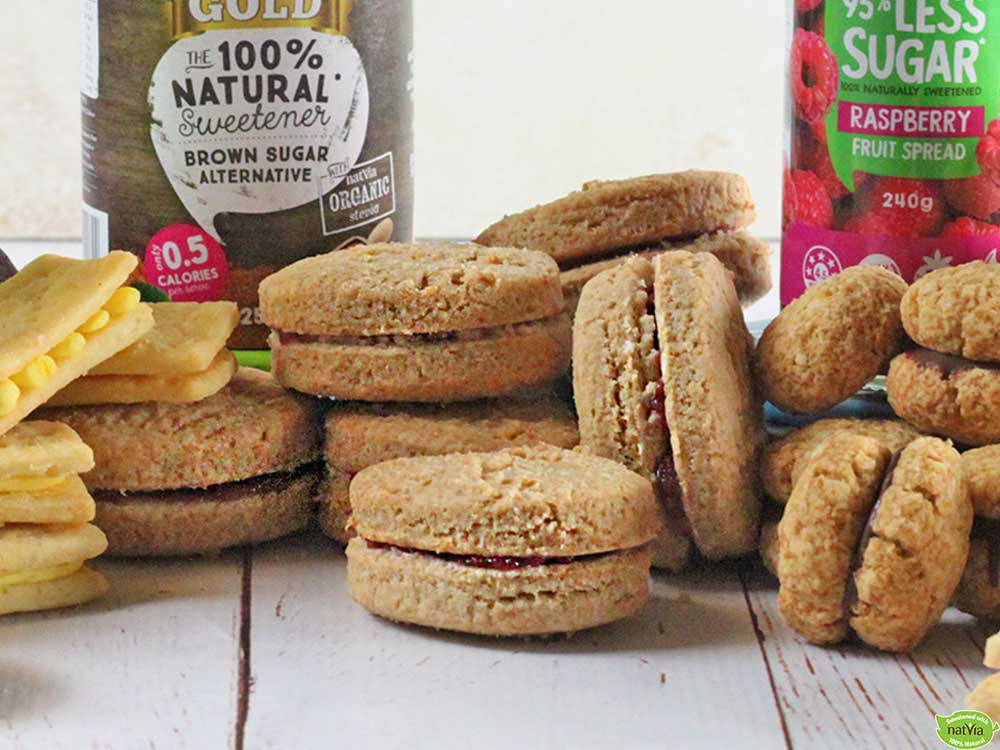 We've taken the sugar out of your favourite biscuit, while still tasting great! Crispy biscuit, creamy filling, and tangy raspberry all come together to create the perfect afternoon treat. Liked this recipe? SAVE it to your collection. You can find more sugar-free recipes like this one and moreover on our Youtube at Healthy Treats.
Serves Makes 12 whole biscuits
Prep 40 minutes
Cook 15 minutes
Ingredients
180 g unsalted butter, softened (3/4 cup)
75 g Natvia Gold
2 tablespoon Natvia Salty Caramel Topping
1 egg
175 g gluten-free self raising flour, sifted (1 1/4 cup)
105 g gluten free plain flour, sifted (3/4 cup)
40 g desiccated coconut (1/2 cup)
Filling:
125 g unsalted butter, softened (1/2 cup)
149 g Natvia, blitzed to a fine consistency (3/4 cup)
4 tablespoon Natvia Raspberry Fruit Spread
Method
Preheat your oven to 160C (fan-forced) and line two trays with baking paper.
Place the butter, Natvia gold, salty caramel sauce and egg in a large bowl and beat until smooth and creamy.
Fold through the flours and coconut until combined and a dough is formed.
Using a rolling pin, roll the dough to 1cm thick. Use an oval cookie cutter to cut biscuits from the dough and place onto the prepared baking tray. Reroll the dough as many times as you can to get the most biscuits.
Once on the prepared trays, use a fork to run random lines over the tops of the biscuits (this will make them look more like the originals).
Place in the oven for 12-15 minutes or until the edges of the biscuits are golden. Allow to cool on the tray for 5 minutes before transferring to a wire rack to cool completely.
To make the filling, combine the butter and Natvia in a bowl and mix until creamy.
Spread the icing mixture onto half of the cooled biscuits and the fruit spread onto the other half. Sandwich one of each of the biscuits together and leave to set for 5 minutes.
| | | | | | |
| --- | --- | --- | --- | --- | --- |
| Carbs | Pro | Fats | Energy KJ | Calories | Serving size |
| 18.9g | 2g | 23.6g | 1270kj | 303 | 77g |