Orange Cupcakes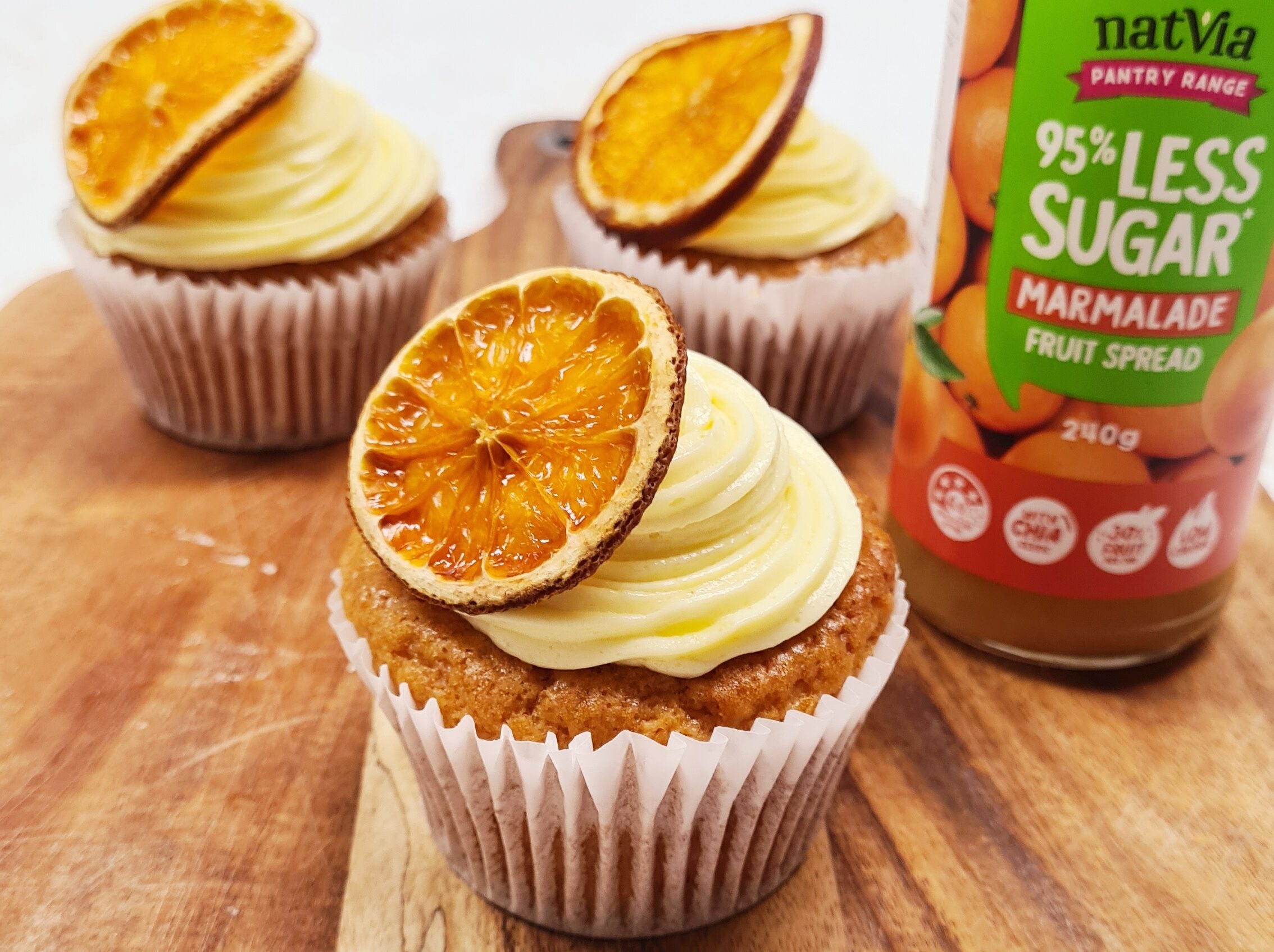 If you love citrus fruit flavours, you'd definitely want to try these Orange Cupcakes. These cupcakes also blend two delicious flavours: orange and vanilla! It's fluffy, moist, refreshing with the perfect amount of sweetness and of course, it's sugar-free! You won't need to worry about the added sugar while enjoying these mouthwatering cupcakes.
Nutrition Information Tips/Tricks
Store finished cupcakes in a sealed container in the fridge.
Place the dehydrated oranges on the cupcakes when you are ready to serve to keep them crisp.
Nutritional information is per cupcake minus the dehydrated orange.
Serves: 8
Prep: 30 Minutes
Cook/Chill: 20-25 Minutes - 3 Hours
Ingredients
1 Natvia Vanilla Cupcake Mix
1 Egg
100 mls Water
83 mls Sunflower Oil
40 g Natvia Marmalade Fruit Spread
1 Orange, sliced into 8 rounds (optional for ganish)
TO MAKE ICING:
60 g Butter (1/4 cup)
10 mls Milk
Method
Preheat the over to 160C and line a muffin tin with 8 paper cases.
In a stand mixer, combine the Natvia Vanilla Cupcake Mix, egg and milk. Mix on a medium speed for 3 minutes.
Spoon the mixture even between the paper cases and cook for 20-25 minutes or until they spring back when touched.
Remove from the oven and set aside to cool in the tin.
Reduce the oven head to 100C and line a baking tray with baking paper.
Place the sliced oranges on the prepared tray and place into the oven for 3 hours until they become dehydrated and crisp.
To make the icing, cream the butter in a stand mixer. While beating, gradually add the icing mixture until fully incorporated. Add the milk and continue to mix for a further minute. Remove from the mixer and set aside.
Once the cupcakes are cool, cut a small round hole from the top of each cupcake (around the size of a 10c piece).
Spoon in 1 teaspoon of the Natvia Marmalade Fruit Spread and place the top back on the cupcake.
Pipe or spread the icing over each cupcake and garnish with each slice of dehydrated orange.
| | | | | | |
| --- | --- | --- | --- | --- | --- |
| Carbs | Pro | Fats | Energy KJ | Calories | Serving size |
| 24.4g | 2.1g | 13.8g | 894kJ | 214 | 70g |