Seedy Crackers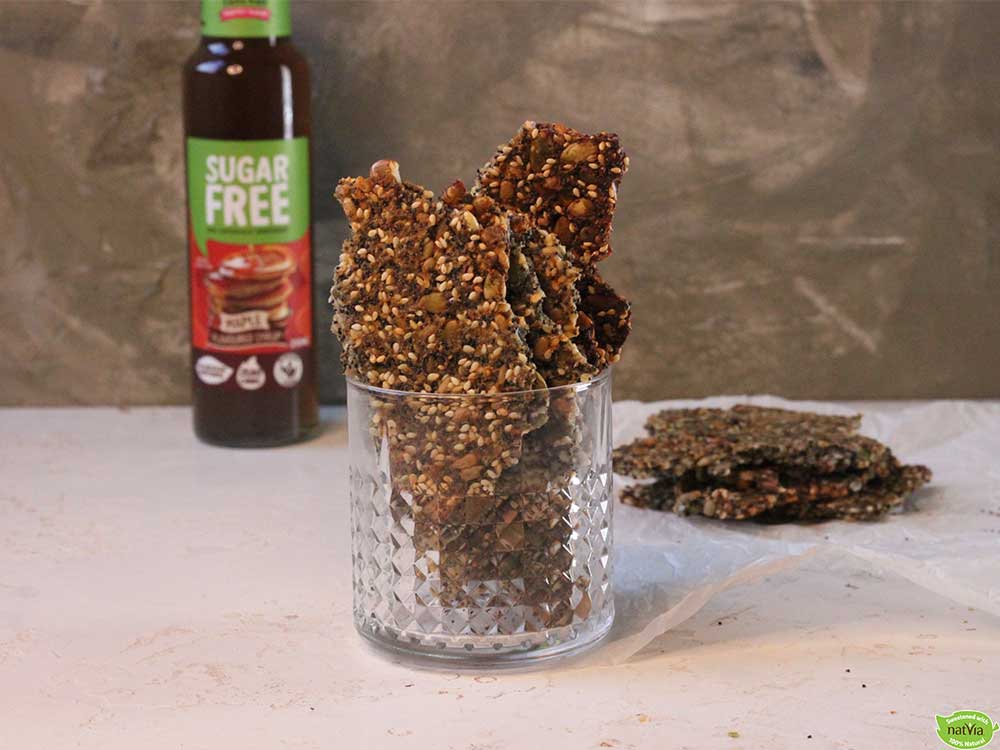 The crackers are perfect for a quick sweet snack craving! This recipe is Diary and Gluten Free, vegan, LCHF, low carb, diabetic friendly and ideal for lunch box treats! Suitable for everyone! Liked this recipe? SAVE it to your collection. You can find more sugar-free recipes like this one and moreover on our Youtube at Healthy Treats.
Serves 8
Prep 10 minutes
Cook/Chill 30 minutes
Ingredients
75 g Quinoa Flakes (1 cup)
100 g Pumpkin Seeds
50 g Sunflower Seeds
40 g Sesame Seeds
3 tablespoon Chia Seeds
3 tablespoon Poppy Seeds
1 teaspoon Salt
1 tablespoon Coconut Oil, melted
1 tablespoon Natvia Maple Flavoured Syrup
180 mls Water
Method
Preheat oven to 190C and line a baking tray with baking paper.
Combine all of the ingredients in a large bowl and mix to combine.
Leave to sit for 10 minutes to allow the water to absorb into the quinoa and thicken.
Transfer the mixture onto a large piece of baking paper. Press a second piece on top and using a rolling pin flatten to ½ cm in thickness.
Remove the top layer of baking paper and bake in the oven for 15-20 minutes or until the edges are golden.
Remove from the oven and place the baking paper back on the top. Flip the cracker over and remove the baking paper (bottom sheet).
Place back in the oven for 10-12 minutes or until golden.
Remove from the oven and allow to cool on the tray.
Once cool break into pieces. Store in a sealed container.
| | | | | | |
| --- | --- | --- | --- | --- | --- |
| Carbs | Pro | Fats | Energy KJ | Calories | Serving size |
| 8.4g | 7.2g | 14.7g | 843kj | 201 | 55g |