Simple Apple Crumble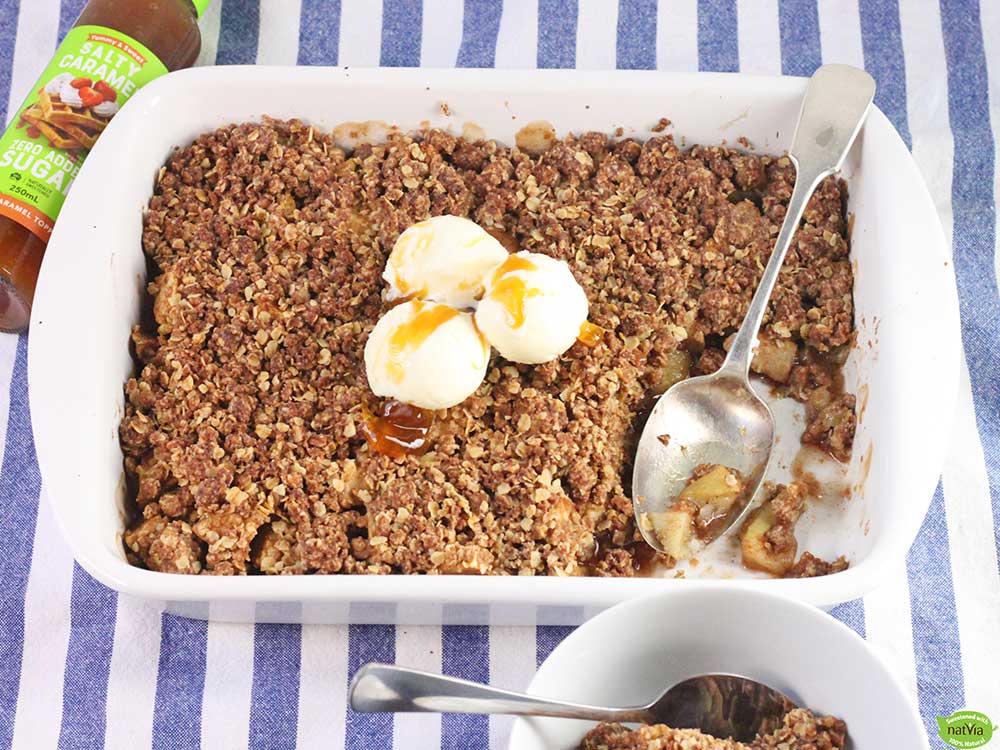 There isn't a dessert that pays off with so much flavour with so little effort like Apple Crumble. The only sugar in our recipe comes from the apples themselves. Try it with cream or vanilla ice cream for an extra special treat! Liked this recipe? SAVE it to your collection. You can find more sugar-free recipes like this one and moreover on our Youtube at Healthy Treats.
Serves 8
Prep 20 minutes
Cook 40 minutes
Ingredients
1000 g Green Apples (9-10 medium apples)
1 tablespoon Gluten-Free Plain Flour
50 g Natvia Gold (1/4 cup)
2 tablespoon Lemon Juice
0.5 teaspoon Cinnamon
Topping:
95 g Gluten Free Oats (1 cup)
140 g Gluten Free Plain Flour (1 cup)
149 g Natvia Gold (3/4 cup)
0.5 teaspoon Baking Powder
1 teaspoon Cinnamon, ground
0.25 teaspoon Cardamom, ground
125 g Butter, melted
Method
Preheat the oven to 180C. Grease a 1.5 litre baking dish with a small amount of butter.
Peel the apples and cut into bite size pieces.
Place the ingredients for the filling in a bowl. Toss so the apples are coated with cinnamon, Natvia, lemon juice and flour.
Place into the prepared baking dish, spreading them out evenly.
Combine the topping ingredients in a bowl and mix to combine.
Spoon evenly over the apple mixture.
Bake for 35 minutes or until golden. Let stand for 5 minutes before serving.
| | | | | | |
| --- | --- | --- | --- | --- | --- |
| Carbs | Pro | Fats | Energy KJ | Calories | Serving size |
| 36.5g | 2g | 1.2g | 770kj | 184 | 183g |