Sticky Date Pudding with Salted Caramel Sauce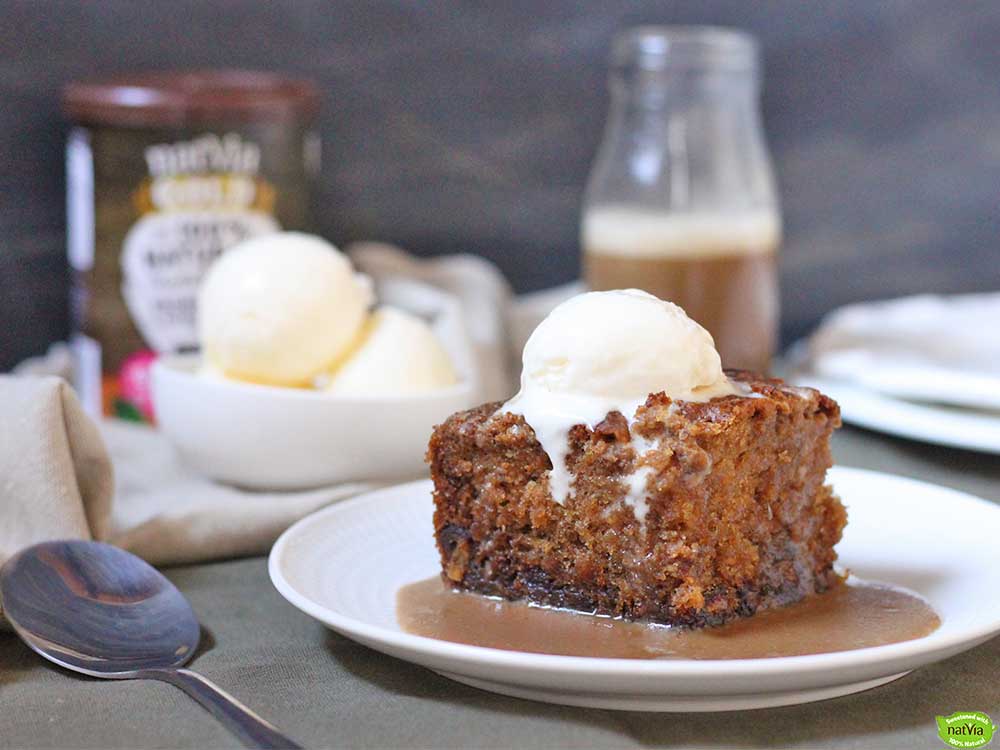 There's really nothing like Sticky Date Pudding to take you right back to childhood. Enhance the experience with our delicious Caramel Sauce and feel free to add a scoop of vanilla ice cream too! Liked this recipe? SAVE it to your collection. You can find more sugar-free recipes like this one and moreover on our Youtube at Healthy Treats.
Serves 9
Prep 30 minutes
Cook 55 minutes
Ingredients
250 g Pitted Dates, roughly chopped
1 teaspoon Bicarbonate of Soda
375 mls Boiling Water (1 1/2 cups)
125 g Unsalted Butter, softened
149 g Natvia Gold (3/4 cup)
1 teaspoon Vanilla
2 Eggs
260 g Gluten Free Self Raising Flour
Sauce:
149 g Natvia Gold
300 mls Thickened Cream
0.5 teaspoon Vanilla
60 g Butter
Pinch of Salt
Method
Preheat oven to 160C (fan-forced). Grease and line a 20cm by 20cm cake tin.
Place the dates, bicarb soda and hot water in a bowl and set aside for 20 minutes.
In a stand mixer, on medium speed beat the butter, Natvia and vanilla. Add the eggs one at a time and continue to beat for a further minute.
Remove the bowl from the mixer and stir through the flour and date mixture.
Once combined, pour the mixture into the prepared tin and bake for 50-55 minutes. It is ready when a skewer is inserted comes out clean.
Once cooked leave to cool in the pan for 5 minutes before serving.
To make the sauce, combine all of the ingredients in a small saucepan over a medium heat. Bring to the boil and then reduce the heat to a simmer. Simmer for 2 minutes before removing from the heat.
Serve over the warm pudding.
| | | | | | |
| --- | --- | --- | --- | --- | --- |
| Carbs | Pro | Fats | Energy KJ | Calories | Serving size |
| 44.4g | 3.7g | 30g | 1983kj | 474 | 189g |