SUGAR FREE BOUNTY BARS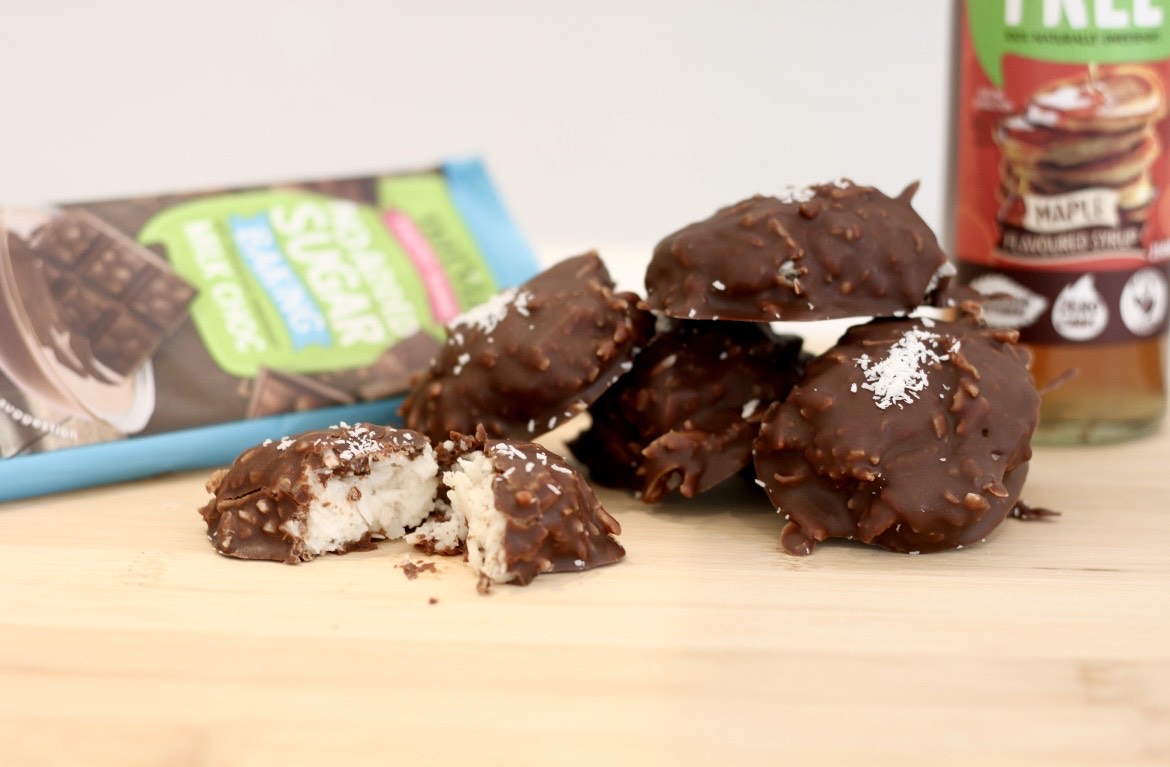 Homemade sugar free bounty chocolate bars are super easy to make, made with delicious coconut and sugar free chocolate how can you say no! The no-bake vegan recipe is sugar-free, egg-free, dairy-free, and low carb too, of course! These are the perfect quick sweet snack, but without the typical sugar crash.
SERVES: 6
PREP: 10-15 minutes
CHILL: 1-2 hours
Ingredients
Half a block of Natvia Milk Chocolate
1 Tea spoon of Organic Coconut Oil
1 cup of Coconut Flakes
2 table spoons of Natvia Sugar Free Maple Syrup
1 table spoon of Coconut Yoghurt
1 cup of Desiccated Coconut
Method
Melt half a block of Natvia no Added Sugar Baking Block
Add 1 tea spoon of Organic Coconut Oil into the bowl of chocolate
Melt this bowl of chocolate in the microwave for 30 seconds or until fully melted
In a seperate bowl add the coconut flakes, Natvia Sugar Free Maple Syrup, coconut yoghurt, desiccated coconut and stir it very well so it forms a sticky batter.
Place a baking tray or plate and line it with baking paper.
Press the raw coconut dough into a rectangle shape with your hands and make sure it is firmly pressed to avoid air that could make the bars fragile.
Using the melted sugar free chocolate with coconut oil to create a chocolate coating.
Then, use 2 forks to dip each bar into the melted chocolate and ensure that the bar is fully covered with the chocolate, then place it onto the trray.
Finally, place each chocolate-dipped coconut bar onto a plate or tray with baking paper and covered with parchment paper and freeze again.
| | | | | | |
| --- | --- | --- | --- | --- | --- |
| Carbs | Pro | Fats | Energy KJ | Calories | Serving size |
| | | | | | |