Victoria Sponge Cake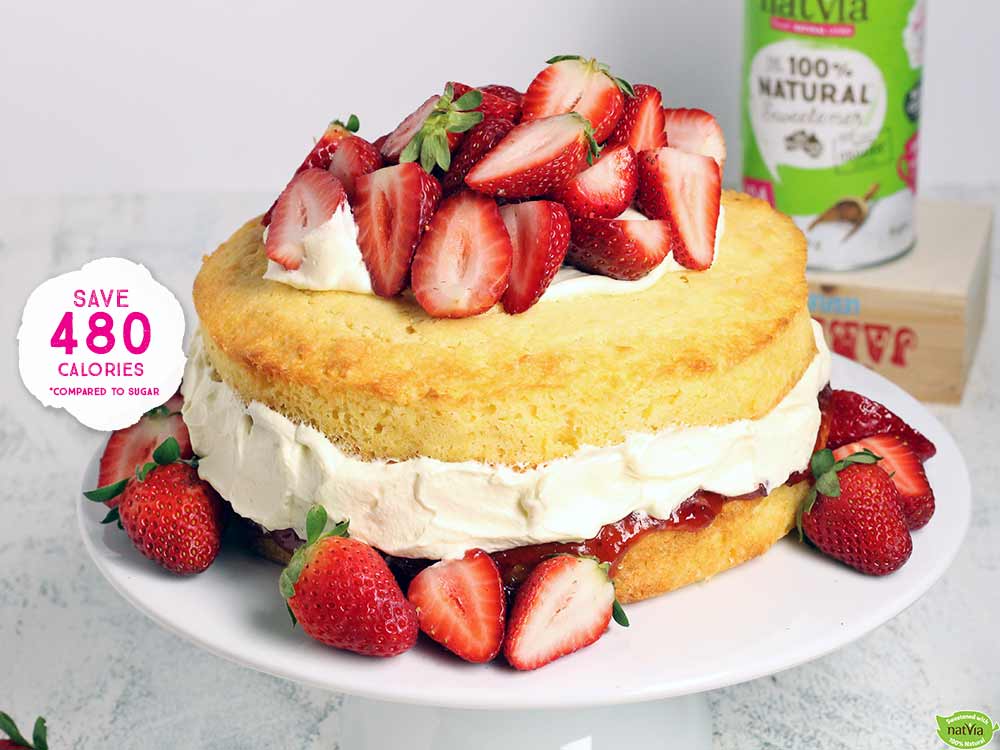 Take a slice of our delicious Victoria Sponge Cake. This recipe is diabetic-friendly and is perfect for entertaining!
Liked this recipe? SAVE it to your collection. You can find more sugar-free recipes like this one and more over on our Youtube at Healthy Treats. Liked this recipe? SAVE it to your collection
Serves: 12
Prep: 15 minutes
Cook: 40 minutes
Ingredients
200 g Unsalted butter
90 g Natvia (1/2 Cup)
1 teaspoon Vanilla bean paste
4 Eggs
150 g Cake flour (1 Cup)
40 g Almond flour (1/3 Cup)
1 teaspoon Baking powder
Pinch of salt
2 tablespoon Boiling water
250 mls Thickened cream, whipped
100 cup Natvia Chia Jam (1/3 Cup)
Fresh berries, for decorating
Method
Preheat the oven to 170C (Fan forced)
Beat the butter, Natvia and vanilla until light and creamy.
Beat in the eggs one at a time.
Sift over the flour and add the almond meal, baking powder and salt. Add the boiling water and fold in until combined.
Divide the batter evenly between 2 x 20cm greased and lined cake tins.
Bake one at a time for 18-20 minutes each.
Stand on a wire rack to cool completely.
Sandwich together the two layers with the whipped cream and jam. Decorate with fresh berries.
| | | | | | |
| --- | --- | --- | --- | --- | --- |
| Carbs | Pro | Fats | Energy KJ | Calories | Serving size |
| 25g | 5.6g | 12.8g | 1020 | 243 | 100g |