Vanilla Sponge Cake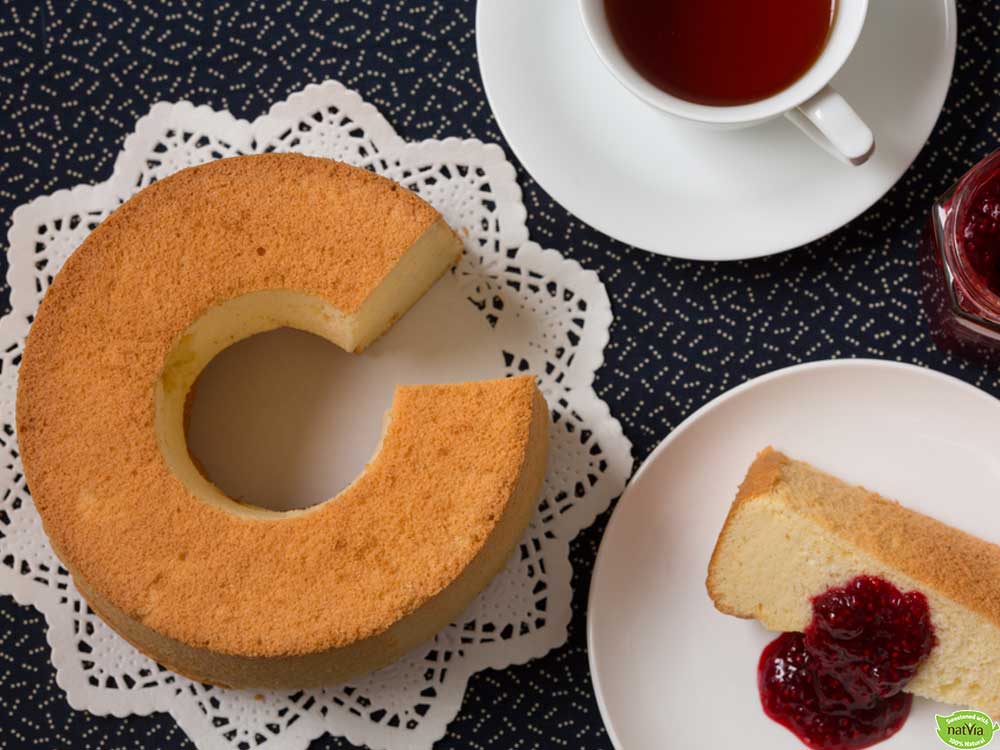 A perfect addition to any Afternoon Tea table - perfectly spongey and dainty. You can find more sugar-free recipes like this one and more over on our Youtube at 
Healthy Treats
. Liked this recipe? SAVE it to your collection
Serves: 10
Prep: 15 minutes
Cook: 25 minutes
Ingredients
90 g Plain Flour (3/4 cup)
65 g Cornflour (1/2 cup)
1 teaspoon Baking Powder
135 g Natvia (3/4 Cup)
4 Large eggs
95 g Butter
1 teaspoon Vanilla Essence
2 tablespoon Water
1 teaspoon Salt
Method
Preheat oven to 180°C and grease and flour cake pan of choice.
Sift the dry ingredients (plain flour, cornflour, and baking powder, salt) into a large bowl and then whisk together to combine. Set aside.
In a separate medium bowl, whisk together all of the wet ingredients (water, vanilla essence and butter) and set aside.
Whisk the eggs and Natvia together until they are fluffy and a light yellow colour.
Fold in the flour mixture slowly. Just until combined.
Slowly fold in the wet ingredients. Just until combined.
Pour into cake pan and bake for 20-25 minutes until a toothpick comes out clean.
While cake is still warm turn out onto a wire rack line with parchment paper and enjoy once cool.
| | | | | | |
| --- | --- | --- | --- | --- | --- |
| Carbs | Pro | Fats | Energy KJ | Calories | Serving size |
| 12.1g | 3.1g | 9.3g | 620 | 148 | 55g |