Chai Cinnamon Buns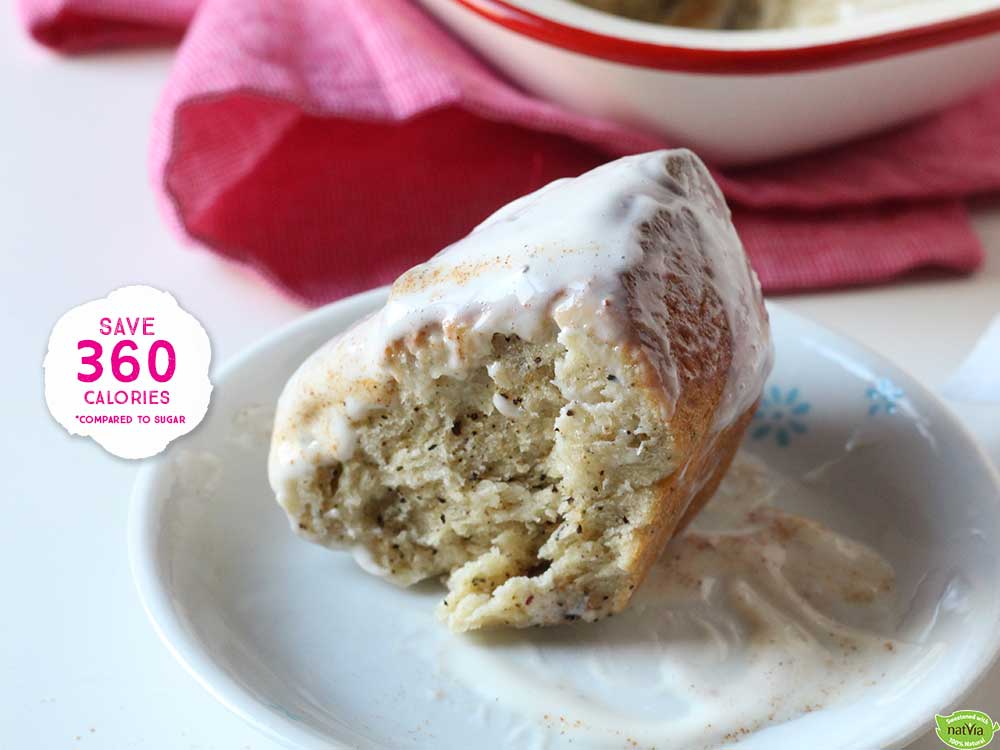 These Chai Cinnamon Buns will melt in your mouth. Paired with a hot tea and coffee, this morning tea treat won't be the last.
Liked this recipe? SAVE it to your collection. You can find more sugar-free recipes like this one and more over on our Youtube at Healthy Treats. 
Serves: 6
Prep: 2 hours
Cook: 30 minutes
Ingredients
125 g Warm milk (1/2 Cup)
1 x 7g Sachet yeast
95 g Natvia (1/2 Cup)
2 tablespoon Unsalted butter, melted
3 tablespoon Thickened cream
1 Egg
1 teaspoon Vanilla bean paste
2 tablespoon Masala chai
ICING:
125 g Cream cheese
50 g Natvia (1/4 Cup)
0.5 teaspoon Vanilla bean paste
2 tablespoon Milk
Cinnamon, for sprinkling
Method
Combine the milk and yeast and stand for about 10 minutes until bubbles start to dot the surface.
Combine the yeast with the butter, cream, egg and vanilla paste.
Sift over the flour and add the chai. Stir until you have a sticky dough. Flour a bench top and lightly knead the dough for a few minutes. It is sticky so you may need to oil your hands, trying not to add too much extra flour. Place the dough in an oiled bowl, covered, somewhere warm for about 1 hour.
After the dough has doubled in size, remove the dough and knead a couple of times. Cut into 6 even pieces and form these into balls. Place each ball of dough next to each other in an oiled baking dish. Cover and set aside for 45 minutes. Preheat the oven to 180C.
Remove the cover and bake for 25- 30 minutes.
Remove from the oven and allow to cool slightly.
Make the icing but beating together the cream cheese, Natvia, vanilla and milk until smooth. Pour over the warm buns and sprinkle with cinnamon.
| | | | | |
| --- | --- | --- | --- | --- |
| Carbs | Pro | Fats | Energy KJ | Calories |
| 19.4 | 5.4 | 11.6 | 869 | 207 |