Mini Chocolate Doughnuts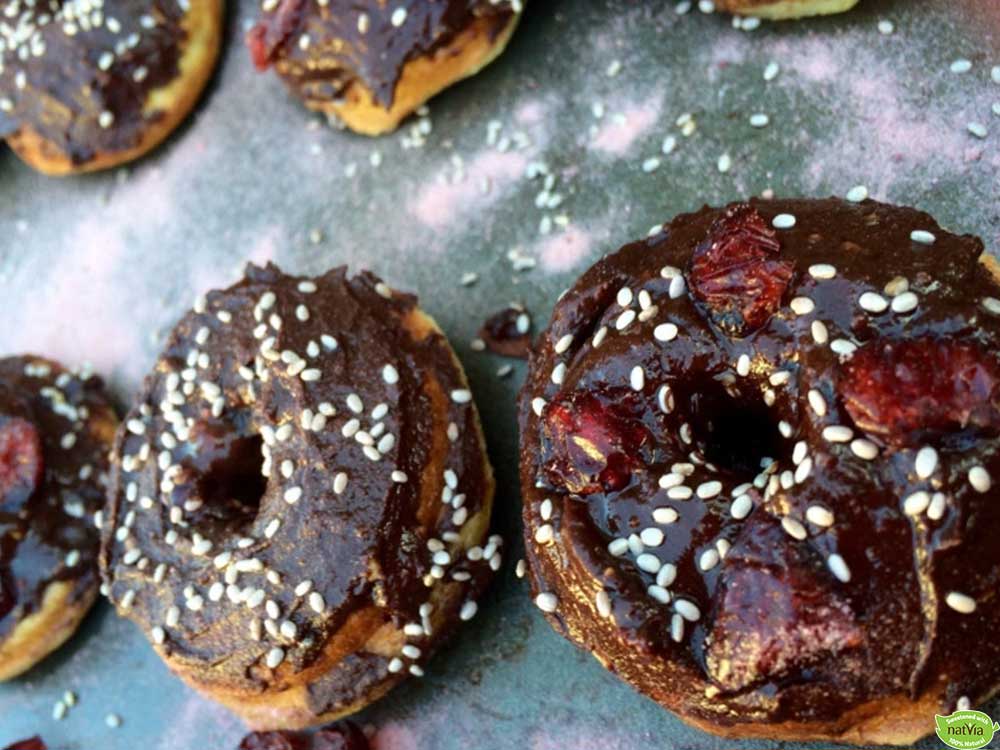 Doughnut underestimate the nutritious value of these little gems! Viv has turned the usual sugar-laden doughnut into a healthy treat to surprise yourself with during the week! These mini doughnuts are filled with goodness and will certainly boost your energy levels all while tasting super amazing! Staying healthy has never tasted so good! You can find more sugar-free recipes like this one and more over on our blog or check out Natvia's archive of dessert videos over at 
Healthy Treats!
Ingredients
60 g Rolled oats
50 g Zucchini
50 g Plain yogurt (less 0.5% fat)
170 mls Egg whites
2 g Baking powder
3 g Psyllium husk
5 mls Flax seed oil
2 Natvia stevia sticks
5 mls flax seed oil for cooking
50 g Coconut oil
50 g Almond butter
50 mls Maple syrup
30 g Raw cacao powder
3 g Chia seeds for sprinkling on top
0 Dried Cranberries
Method
Put the doughnut maker on and allow to heat until it advises it is ready to use (usually via indication lights).
Place all of the ingredients into the blender and blend on high until creamy.
Using a basting brush for  5ml of the flax seed oil to grease the doughnut maker.
Place batter into each doughnut mould and allow to cook until golden brown.
Once the doughnuts have cooked allow to cool to about room temperature.
Repeat these steps until all of the batter has been used.
Place all ingredients into a blender / NutriBullet and blend until smooth.
Place into a bowl and top each doughnut with equal amounts of chocolate.
Sprinkle with chia seeds and cranberries as desired.
No nutritional info supplied