St Clements Pie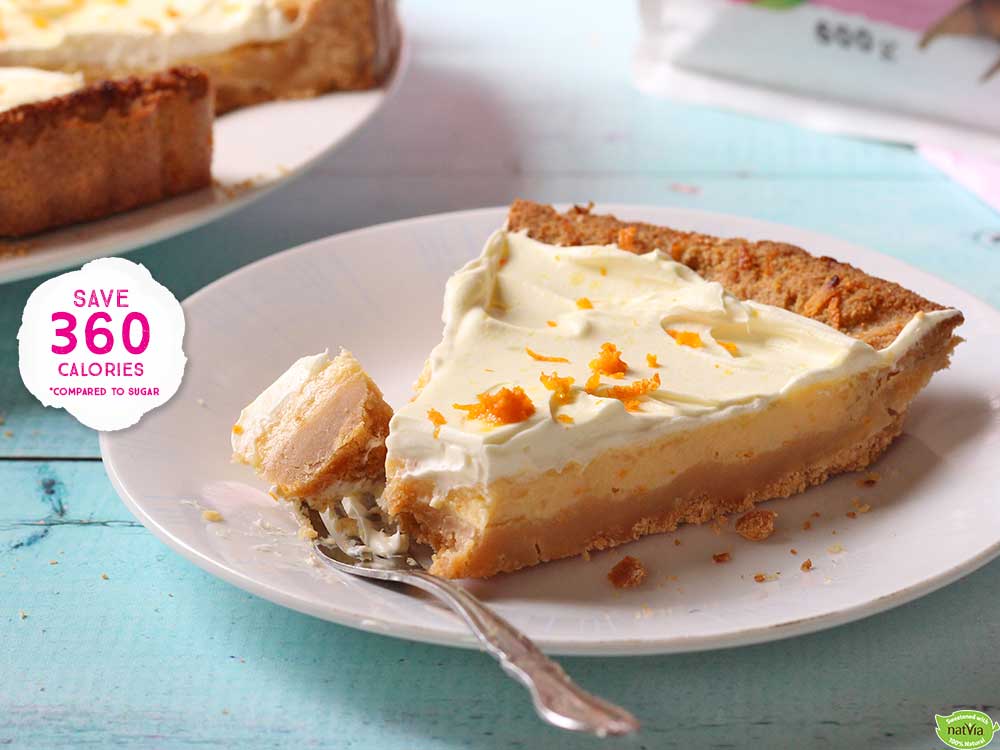 The British version of another classic, the Key Lime Pie. This St Clement's Pie is just as indulgent but made healthier with Natvia!
Liked this recipe? SAVE it to your collection. You can find more sugar-free recipes like this one and more over on our Youtube at Healthy Treats. Liked this recipe? SAVE it to your collection
Serves: 12
Prep: 15 minutes
Cook: 2 hours
Ingredients
240 g almond meal (2 Cup)
60 g desiccated coconut (3/4 Cup)
125 g unsalted butter, melted (1/2 cup)
1 egg
3 yolks
250 g Milk (1 Cup)
1 teaspoon vanilla essence
90 g Natvia (1/2 Cup)
1 lemon zest & juice
2 oranges zest and juice
225 g thickened cream (3/4 Cup)
100 g greek yogurt
orange zest
Method
Preheat the oven to 180C
Combine the almond meal and coconut and the butter in a food processor and process until fine. Add the melted butter and pulse until combined
Press the base into a greased loose-bottomed 20cm tart tin. Bake for about 15 minutes. And then remove and cool.
Whisk together the eggs, milk, vanilla, Natvia, zest and juice. Pour into the tart shell and then bake for about 20-25 minutes.
Remove from the oven and cool on the bench, Move to the refrigerator and chill overnight.
Whip together the cream, Greek yoghurt, Natvia and orange. Dollop on top of the pie and sprinkle with orange zest and enjoy.
| | | | | | |
| --- | --- | --- | --- | --- | --- |
| Carbs | Pro | Fats | Energy KJ | Calories | Serving Size |
| 4.8g | 8.2g | 32.8g | 1470 | 350 | 100g |