Ginger Cinnamon Doughnuts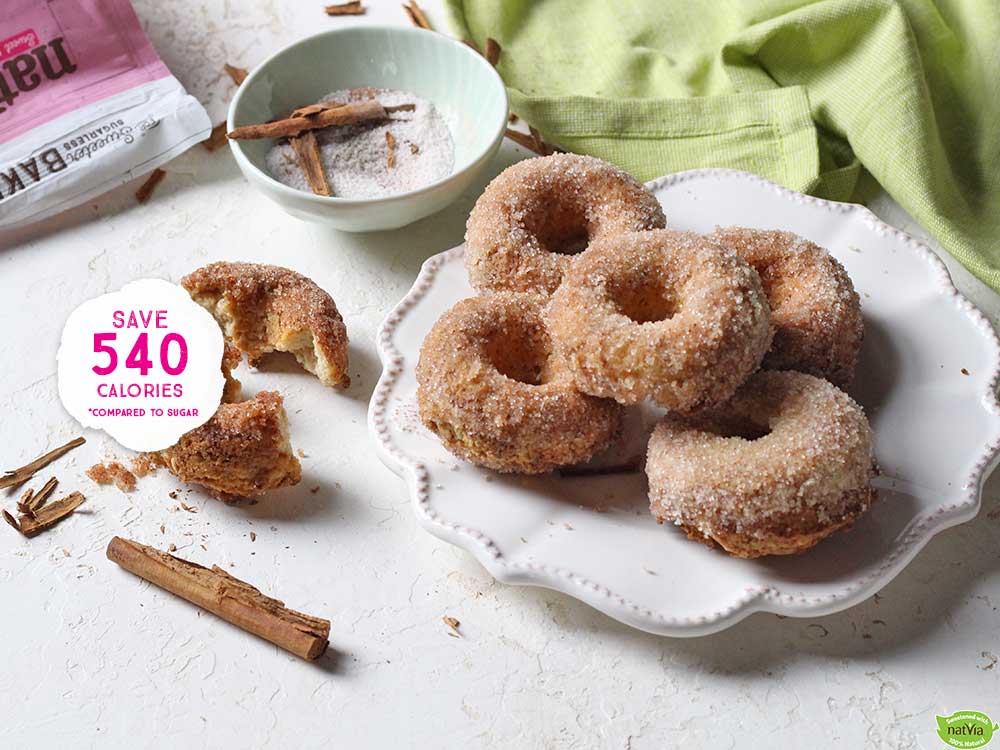 There's always room for a doughnut and you won't have to compromise on flavour with our Ginger cinnamon Doughnuts with ZERO added sugar. Get baking!
TIP
- to speed up the process use unsweetened apple sauce instead of making your own apple puree
Liked this recipe? SAVE it to your collection. You can find more sugar-free recipes like this one and more over on our Youtube at Healthy Treats. Liked this recipe? SAVE it to your collection
Serves: 12
Prep: 25 minutes
Cook: 18 minutes
Ingredients
300 g Plain flour (2 Cup)
2 teaspoon Baking Powder
1 tablespoon Heaped Minced Ginger
.50 teaspoon Bicarb Soda
43 g Vegan Margarine, Melted & Cooled
50 g Natvia (1/4 Cup)
1 teaspoon Egg Replacer
125 g Almond Milk (1/2 Cup)
1 tablespoon Almond Milk
Coating:
80 g Vegan Margarine, Melted
2 teaspoon Cinnamon
90 g Natvia (1/2 Cup)
Method
Combine the flour, baking powder, bicarb and cinnamon in a bowl
In a separate bowl whisk together the margarine, ginger, Natvia, egg replacer 2 tbs water and the milk.
Combine the wet mixture gradually into the dry mixture.
Scoop into a piping bag or a large zip lock bag.
Fill the greased donut tray moulds ¾ of the way full with batter.
Bake at 190C for 15-18 minutes, until the donuts springs back when pressed.
Remove the donuts from the tray and stand on a wire rack to cool.
Dip the cooled donuts in the melted margarine and then in the combined Natvia and cinnamon.
| | | | | | |
| --- | --- | --- | --- | --- | --- |
| Carbs | Pro | Fats | Energy KJ | Calories | Serving size |
| 19.1g | 3.2g | 7.6g | 679 | 163 | 60g |