Strawberry Tassies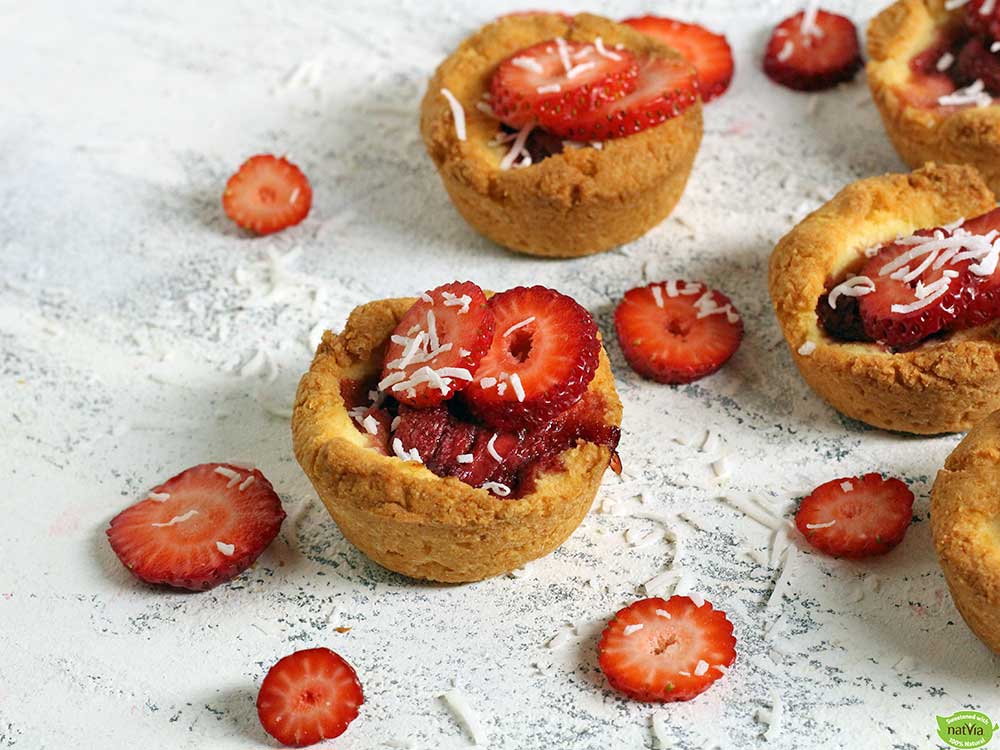 Delicious Strawberry Tarts perfect for sharing or snacking on throughout the week. These Strawberry Tassies are super easy to make and are sure to impress just about anyone!
Find all of our Christmas recipes here!
Liked this recipe? SAVE it to your collection. You can find more sugar-free recipes like this one and more over on our Youtube at Healthy Treats. Liked this recipe? SAVE it to your collection
Serves: 12
Prep: 20 minutes
Cook: 15 minutes
Ingredients
125 g unsalted butter
95 g Natvia (½ cup)
1 tablespoon vanilla bean paste
1 egg
1 teaspoon baking powder
pinch of salt
220 g flour (1 ½ cups)
40 g desiccated coconut, plus extra (½ cup)
1 punnet strawberries, sliced
Method
Preheat the oven to 180C
Beat the butter with the Natvia and vanilla until light and creamy.
Beat in the egg
Gradually beat in the salt, baking powder and flour. Stir in the desiccated coconut.
Roll the dough into balls and press into a greased 1/3 cup capacity 12 x cupcake tray. Press into the mould and make an indent in the middle of each on with your thumb, pushing dough up the sides of the mould. Place a ½ strawberry into each hole.
Bake for 12-15 minutes, until golden brown.
Top with fresh strawberry and desiccated coconut.
| | | | | | |
| --- | --- | --- | --- | --- | --- |
| Carbs | Pro | Fats | Energy KJ | Calories | Serving size |
| 12.0g | 2.8g | 10.8g | 681 | 162 | 50g |