Apple Turnover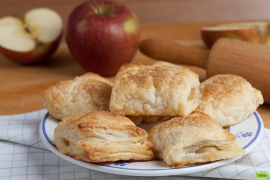 Serves: 12
Prep: 15 Minutes
Cook: 20- 30 Minutes
Ingredients
APPLE FILLING:
5 Apples
70 g Vegan Butter
45 g Natvia (1/4 cup)
1 teaspoon Ground Cinnamon
Pinch of Salt
TO BUILD
2 Sheets of Puff Pastry, partiality thawed
1 Egg
1 tablespoon Water
Natvia, as needed
Ground Cinnamon, as needed
Method
Starting with the Apple filling, the first step is to, melt the butter in a medium/high heat pan.
Add the sliced apples and sauté until slightly tender.
Add cinnamon, salt, Nativa and sauté until apples are tender and Natvia has dissolved.
Allow to cool before using.
How to Assemble, the first step is to, cut each sheet of puff pastry into 6 squares, depending on desired size of turnover.
Whisk together the egg and water to create an egg wash and brush onto the edges of the puff pastry squares.
Place spoonful of apples onto half of the squares, making sure not to go too close to the edges.
Fold one side of the turnover, over the apples and press edges into each other and place onto pan.
If desired you can use a fork and make slight imprints with the tines around the edges. Using the tine of the fork create a few holes in the top of the turn over.
Brush with the remaining egg wash and sprinkle with Natvia and cinnamon.
Bake for 15-20 minutes until golden brown.
Serve warm or room temperature.
| | | | | | |
| --- | --- | --- | --- | --- | --- |
| Carb | Pro | Fats | Energy KJ | Calories | Serving size |
| 14.6g | 1.7g | 10.1g | 677 | 162 | 80g |