Blackberry Coconut Squares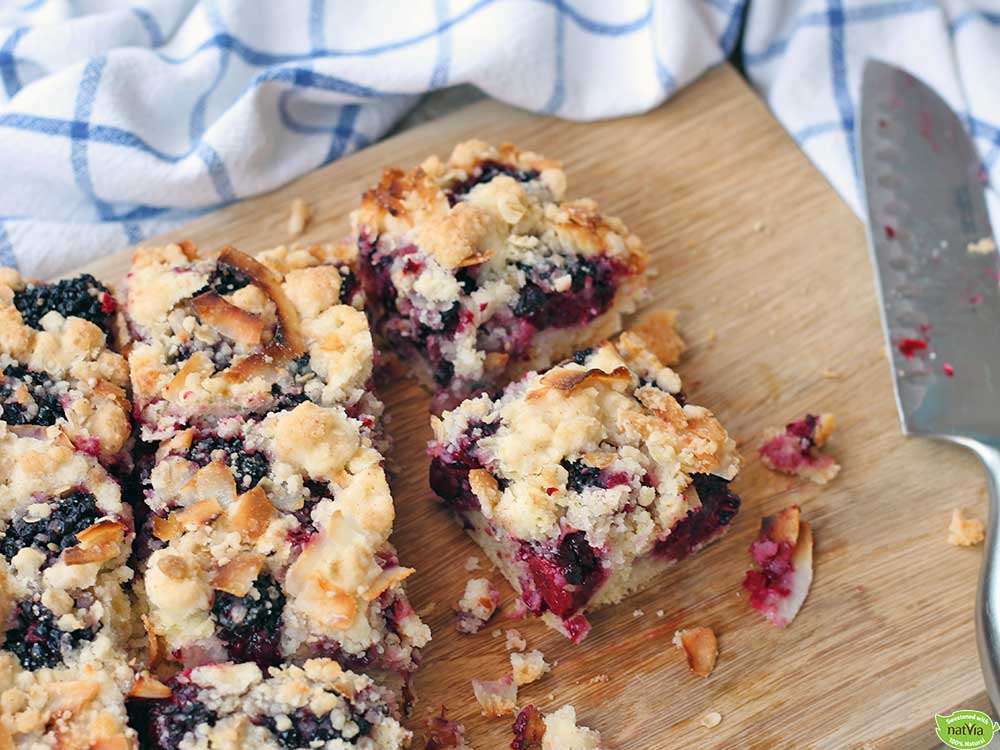 Recipe by 
Fitness Forster
For a delicious fruity treat, whip up these tasty Blackberry Coconut Squares!
You can find more sugar-free recipes like this one and more over on our Youtube at Healthy Treats. Liked this recipe? SAVE it to your collection
Serves: 12
Prep: 10 minutes
Cook: 1 hour
Ingredients
150 g Self-raising Flour (1 Cup)
50 g Natvia (¼ Cup)
40 g Desiccated or Flaked Coconut (½ Cup)
30 g Oats (¼ Cup)
150 g Coconut Oil (solid) (¾ Cup )
2 Eggs
300 g Blackberries
Method
Pre-heat oven to 160 degrees C.
Line a brownie tin with parchment paper- set to one side. Add flour, oats and natvia to a bowl- rub in the coconut oil using your fingers. Stir in coconut and then remove ½ cup of mixture and set to one side.
Add eggs to what's left in your mixing bowl and stir. Pour mixture into the lined tin and spread out evenly.
Sprinkle over blackberries and then scatter over the remaining mix you placed to one side
Bake for 1 hour but check after 50 minutes.
Remove from the oven and leave to cool completely before cutting. Store in an airtight container in the fridge for up to 3 days.
| | | | | | |
| --- | --- | --- | --- | --- | --- |
| Carbs | Pro | Fats | Energy KJ | Calories | Serving size |
| 12.3g | 3.0g | 15.3g | 854 | 204 | 65g |