Choc Banana Oat Bars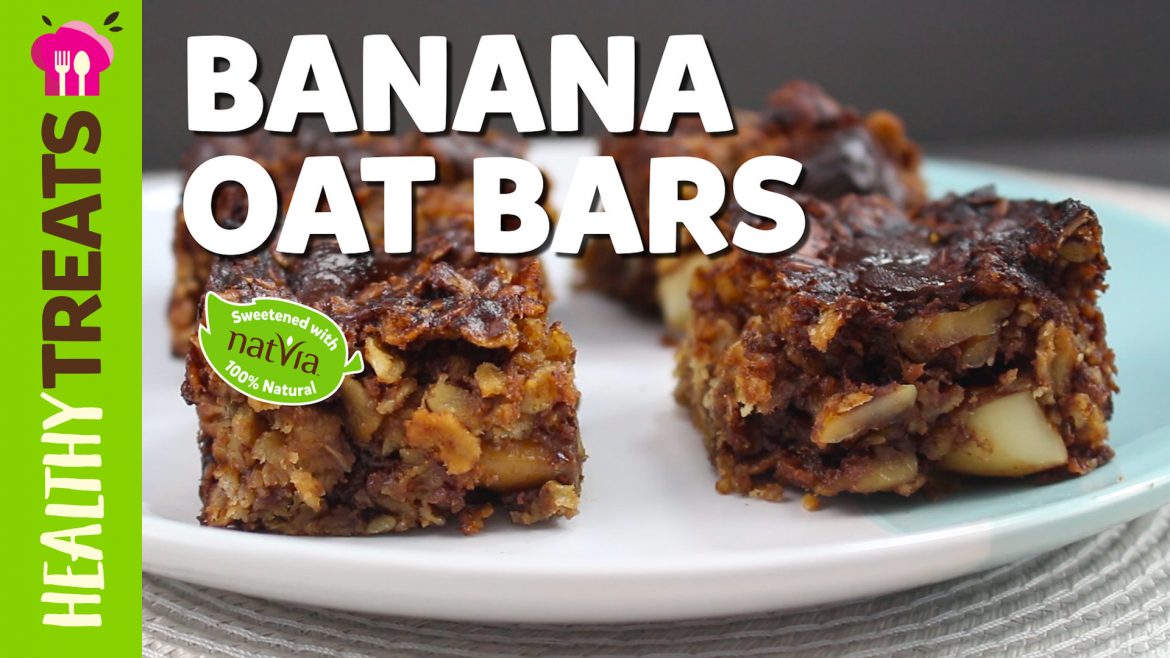 This is a healthy Choc Banana Oat Bars dessert recipe alternative made completely without sugar. Gluten Free Choc Banana Oat Bars recipe by Natvia. Made with Natvia 100% Natural Sweetener! That's right there is no sugar used in any of our recipes! You can find more sugar-free recipes like this one and more over on our blog or check out Natvia's archive of dessert videos over at 
Healthy Treats!
Ingredients
1 cup Walnuts
1.5 cup Rolled Oats (certified gluten free oats)
0.5 cup Brazil Nuts
0.5 cup Sunflower Seeds
150 g Butter
0.5 cup Natvia
2 Bananas
1 teaspoon Cinnamon
0.5 teaspoon Bicarb Soda
0 Chocolate Chunks (own choice - recommend sugar free!)
Method
Preheat oven to 180°C & flat baking tray with baking paper.
Add 1 cup walnuts, 1 & 1/2 cup rolled oats, 1/2 cup brazil nuts, and 1/2 cup sunflower seeds to the flat baking tray and place the mixed nuts into the oven at 180°C until golden brown (should take about 10 minutes).
Whilst the nuts and oats are in the oven, place 150g butter in a saucepan over medium heat.
Add 1/2 Natvia to this saucepan with the butter and continue to stir the mixture.
Add 2 Bananas to a new mixing bowl, 1 tsp Cinnamon, and 1/2 tsp Bicarb Soda. Mash the bananas and ingredients together loosley.
Once reasonably mashed, add the banana bowl to the heating butter and Natvia. Continue to mix and stir over medium low heat.
Once finished (golden brown), remove the nuts and oats from the oven and add them to the saucepan over the heat and stir.
Once mixed together, add the final mixture to a square baking tray lined with baking paper.
Top with chocolate chunks across the top and bake for 30 minutes at 180°C or until golden brown.
Remove from oven and enjoy some guilt free slices!
No nutritional info supplied