Chocolate, coffee and walnut slice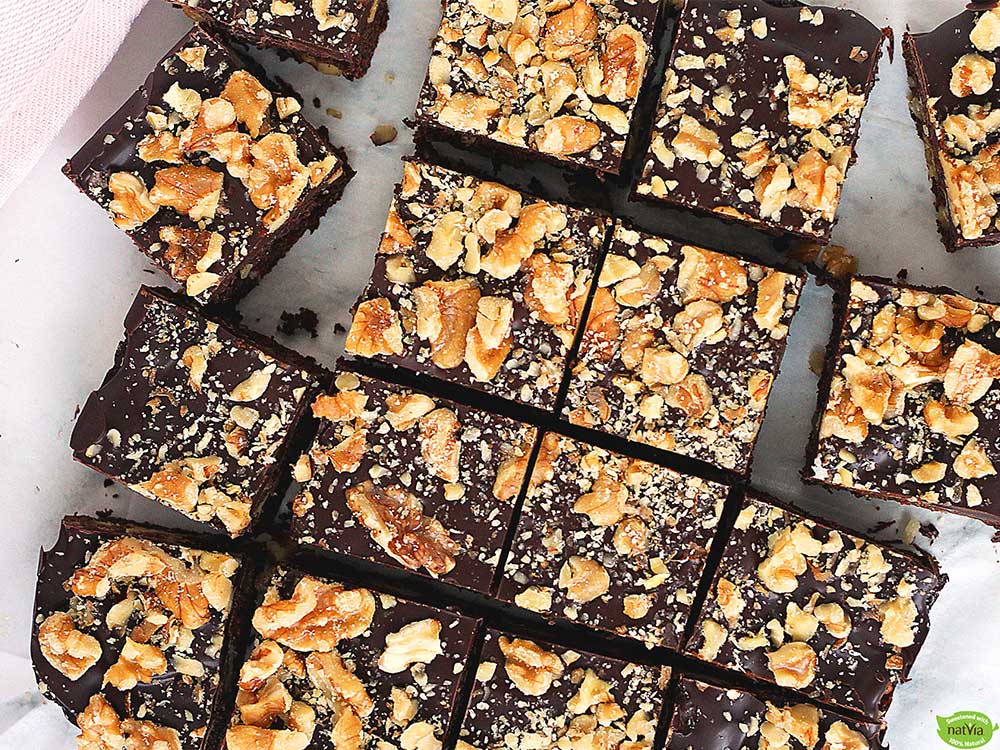 Recipe by 
Eatnik
Indulge in this Chocolate, Coffee, and Walnut Slice, it's SO addictive!
Liked this recipe? SAVE it to your collection. You can find more sugar-free recipes like this one and more over on our Youtube at Healthy Treats. Liked this recipe? SAVE it to your collection
Serves: 16
Prep: 15 minutes
Cook: 30 minutes
Ingredients
125 g butter, melted
90 g Natvia natural sweetener (½ cup)
2 tablespoon molasses
1 egg, lightly whisked
60 g instant coffee (¼ cup)
1 tablespoon boiling water
75 g all purpose flour (½ cup)
110 g self raising flour (¼ cup)
2 tablespoon cocoa powder
225 chopped walnuts (1.5 cups)
300 g dark chocolate
Method
Preheat oven to 180ºC. Grease and line a square brownie pan.
In a bowl, combine melted butter, Natvia, molasses and egg. Whisk together instant coffee and boiling water, and add this to the other wet ingredients.
Sift flours and cocoa powder into wet ingredient. Add one cup of chopped walnuts and stir mixture to combine.
Pour into prepared tin and bake for 30 minutes. Set aside to cool completely in the tin.
To make the topping, melt chocolate in the microwave, or over a bain-marie. Keep the slice in the tin, and pour over dark chocolate. Sprinkle with walnuts. Place into the fridge until chocolate topping has set. Cut into squares and serve.
| | | | | | |
| --- | --- | --- | --- | --- | --- |
| Carbs | Pro | Fats | Energy KJ | Calories | Serving size |
| 10.4g | 3.9g | 17.3g | 912 | 218 | 65g |