Chocolate Raspberry Muffins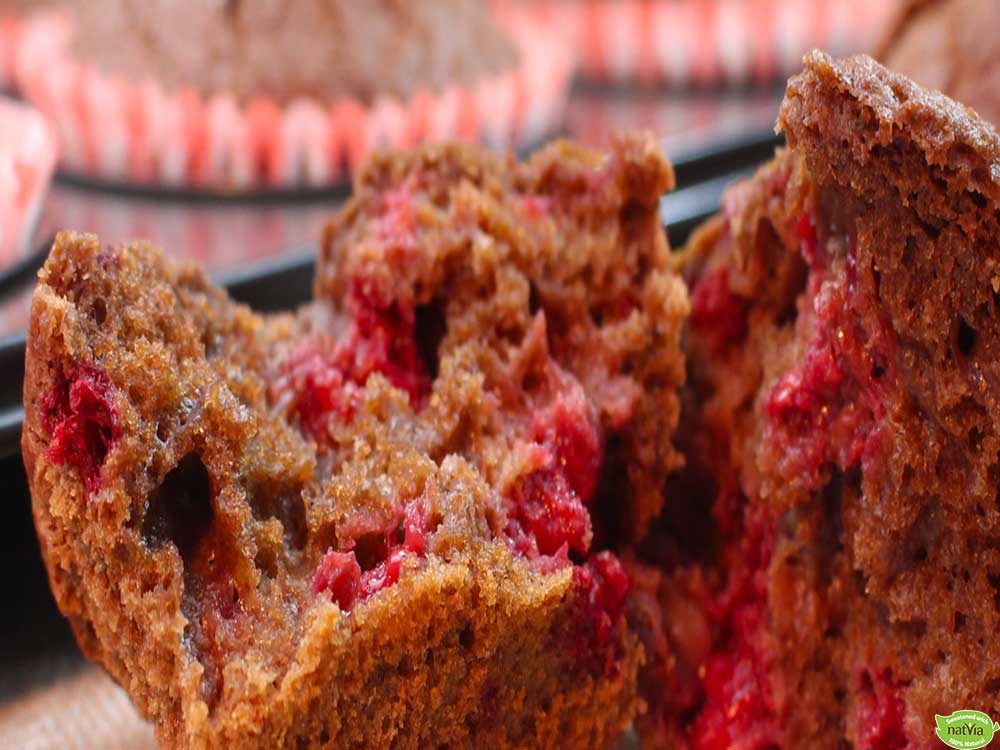 This is a sugar free Chocolate Raspberry Muffins recipe that is a great way to replace sugar exactly. A Chocolate Muffins recipe alternative made completely without sugar! A super healthy and tasty way to enjoy sugar free recipes, by Natvia. Made with Natvia 100% Natural Sweetener! That's right there is no sugar used in any of our recipes! This sugar free Chocolate Raspberry Muffins recipe is so easy and simple to make. This is a quick way to make sugar free Chocolate Raspberry Muffins. You can find more sugar-free recipes like this one and more over on our blog or check out Natvia's archive of dessert videos over at 
Healthy Treats!
Ingredients
1.33 cup Self Raising Flour
0.25 cup cocoa powder
0.75 cup Natvia
0.66 cup almond meal
0.25 cup Natvia
2 eggs
0.33 cup vegetable oil
0.75 cup buttermilk
1 teaspoon vanilla extract
1 cup frozen raspberries
Method
Preheat oven to 180°C.
Start by adding 1 & 1/3 cup self raising flour, and 1/4 cup cocoa powder to a sieve, and sift the contents into a large mixing bowl.
Add 3/4 cup Natvia to the mixture, as well as adding 3/4 cup almond meal and then set aside.
In a small seperate bowl, add 2 eggs and begin to whisk. Add 1/3 cup vegetable oil to the eggs, and 3/4 cup buttermilk.
Also add 1 tsp Vanilla Extract to the bowl and whisk again.
Once evenly combined, add the dry mixture and wet eggs mixture together and evenly stir.
Add 1 cup frozen raspberries to the muffin mixture and stir the raspberries into the mix.
Place muffin cups into a muffin tray and spoon the muffin mixture into the cups and disperse evenly.
Once you have separated the mixture between the muffin cups, bake for 20 - 25 minutes at 180°C.
No nutritional info supplied