Citrus Poppy Seed Celebration Cake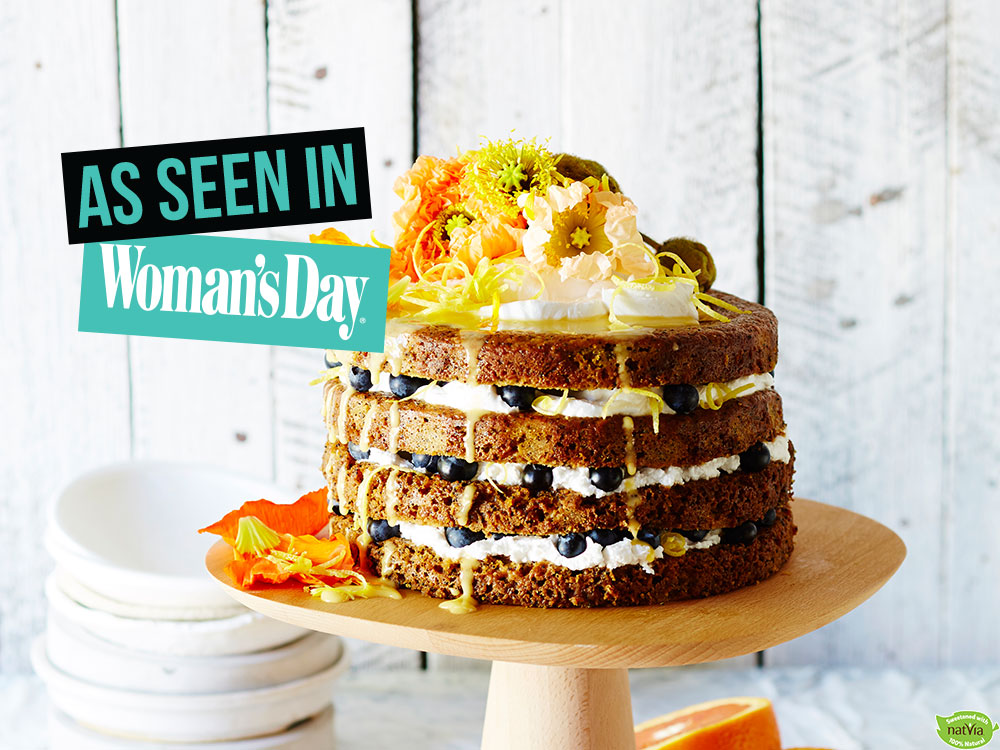 Impress EVERYONE with this amazing Citrus Poppy Seed Celebration Cake. Full of texture and amazing flavour, take your refined sugar-free baking to the next level!
You can find more sugar-free recipes like this one and more over on our Youtube at Healthy Treats. Liked this recipe? SAVE it to your collection
Serves: 12
Prep + Cook: 1 hour 30 minutes (+ standing, cooling, and refrigeration)
Ingredients
250 mls orange juice (1 cup)
50 g poppy seeds (1/3 cup)
500 g canned coconut milk (2 cups)
1.5 tablespoon apple cider vinegar
250 g Natvia (1 1/3 cups)
375 g self-raising flour (2½ cups)
2 tablespoon bicarbonate of soda (baking soda)
2 teaspoon baking powder
2 tablespoon finely grated orange rind
750 g coconut yoghurt
250 g blueberries
3 tablespoon finely grated lemon rind
160 g Natvia extra (¾ cup)
60 g lemon juice (¼ cup)
edible flowers, optional
Method
Preheat oven to 170°C/340°F. Grease two deep 20cm (8in) round cake pans; line bases and sides with baking paper.
Combine orange juice and seeds in a small bowl; stand for 15 minutes.
Meanwhile, combine coconut milk and vinegar in a medium bowl; stand for 5 minutes.
Blend Natvia in a high-speed blender until consistency of icing sugar.
Sift flour, soda, baking powder and powdered Natvia into a large bowl. Make a well in the centre, add seed mixture, coconut milk mixture and orange rind; whisk until just combined. Divide mixture evenly between pans.
Bake cakes for 1½ hours or until a skewer inserted into the centre comes out clean. Cool cakes in tins for 30 minutes before turning out onto wire racks to cool.
Split cakes in half; refrigerate cakes for 2 hours.
Place one base layer of cake on a plate. Top with a quarter each of the yoghurt, blueberries and lemon rind. Repeat layering with remaining cake layers, yoghurt, blueberries and rind, finishing with the final cake layer, topped with yoghurt.
Blend extra Natvia in a high-speed blender until consistency of icing sugar.
Sift extra powdered Natvia into a medium bowl; stir in juice until smooth. Drizzle over top of cake. Top with edible flowers, if you like.
Cakes can be made to the end of step 6 a day ahead; store in an airtight container at room temperature. They can also be frozen for up to 3 months. Thaw, then continue with recipe. Serve cake topped with seasonal fruit, thin strips of citrus rind and edible flowers or unsprayed flowers to decorate. This cake is moist in the centre, however will firm up when refrigerated.
| | | | | | |
| --- | --- | --- | --- | --- | --- |
| Carbs | Pro | Fats | Energy KJ | Calories | Serving size |
| 35.9g | 6.7g | 12.1g | 1240 | 296 | 225g |