Fig Tart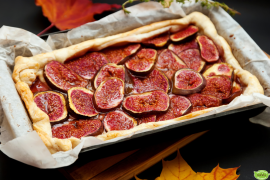 Serves: 8
Prep: 10 Minutes
Cook: 15- 20 Minutes
Ingredients
1 each

Puff Pastry Sheet

Partiality Thawed

1 cup/250g 

Ricotta:

8-10 each

Figs

cut into 1/4 inch slices.

2 tbsp/28g

 Natvia Sweetener 
Method
Preheat oven to 190°C.
Place the puff pastry sheet onto a parchment paper lined sheet pan or rectangle pan.
Dock the sheet by punching holes using a fork over the whole sheet.
Spread the ricotta cheese over the the centre of the sheet, leaving a 1/4 inch edge.
Layer sliced figs on top of ricotta cheese making sure to leave the edge.
Sprinkle with Natvia.
Bake for 15-20 minutes until edges and bottom of tart are golden brown.
No nutritional info supplied