French Apple Tart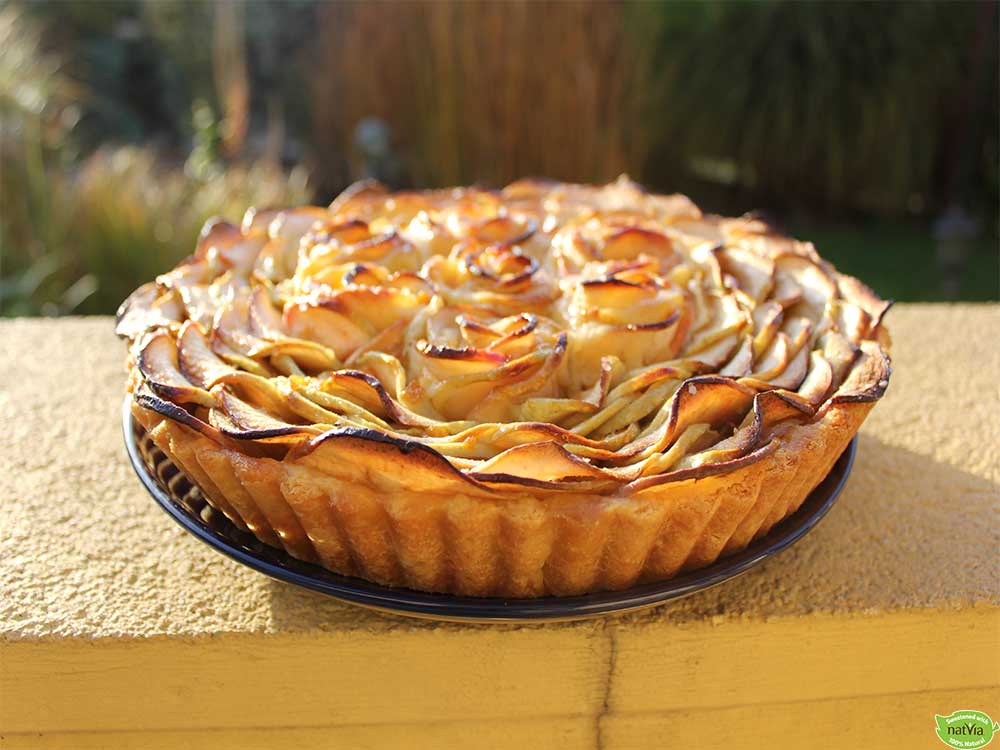 This is a classic and heart warming recipe, now made refined sugar free for you and the family to enjoy. Slightly more involved to make but if you love apples and wholesome treats, you will enjoy this sugar free recipe! You can find more sugar-free recipes like this one and more over on our blog or check out Natvia's archive of dessert videos over at 
Healthy Treats!
Ingredients
165 g plain flour
0 pinch salt
125 g butter, softened to room temperature
1 egg yolk
3 tablespoon cold water
125 g butter, softened
100 g Natvia
1 egg, beaten
1 egg yolk
2 tablespoon plain flour
115 g ground almonds
2 teaspoon Cherry brandy(Optional)
4 Granny Smith apples, peeled, cored, halved and thinly sliced
3 tablespoon apricot jam (natural no added sugar)
Method
For the pastry, stir together the flour and salt in a bowl. Add butter, egg yolk and water. Combine together until it forms large crumbs. Add a small amount of water if the crumbs are too dry.
Press the crumbs firmly into a ball dough and wrap it in cling wrap. Chill for at least 30 minutes or until firm.
For the filling, beat together butter and Natvia in a medium bowl until light and creamy. Add the egg and egg yolk one at a time. Optional, stir in the cherry brandy. Add flour to the ground almonds, then mix into the butter mixture. Set aside.
Roll the pastry out to about a 30cm circle on a lightly floured surface. Transfer the pastry in a 30cm fluted tart pan with removable base. Prick with a fork all over. Return the pastry to the refrigerator to chill.
Preheat the oven to 200 C. Place a baking tray inside the oven while it preheats. Spoon the filling into the chilled pastry base, and spread evenly.
Arrange the apple slices in an overlapping pattern on the filling. Each slice should touch pastry base, and then overlap the previous slice. Start from the outside towards the centre.
Place the tart onto the hot baking tray in pre-heated oven and bake until the filling starts to brown, 15-20 minutes. Reduce the oven to 180 degrees C and bake for another 15-20 minutes.
Transfer to a wire rack to cool. Just before serving glaze with the apricot jam. Enjoy!
No nutritional info supplied