Graham Crackers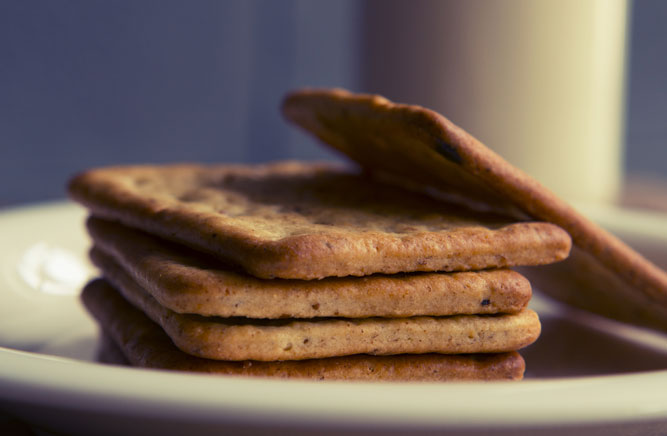 You can find more sugar-free recipes like this one and more over on our blog or check out Natvia's archive of dessert videos over at 
Healthy Treats!
Makes 15 6cm square crackers
Ingredients
1 egg
1/4 cup/60ml/2 oz vegetable oil 1/3 cup/80ml/2.6 oz milk (of choice) 1/4 cup/45g/1.5 oz Natvia 1 cup/150g/5.2 oz whole wheat flour 1 cup/150g/5.2 oz plain flour 1/2 tsp salt 1 1/4 tsp cinnamon 1 tsp baking power
Method
Preheat oven to 190°C. Line sheet pans with parchment paper or silapat mats.
Whisk together the egg, vegetable oil, milk, and Natvia.
Add in flours, salt, cinnamon, and baking powder and mix with a paddle until combined.
Place in refrigerator and allow to rest for 30 minutes.
Roll out onto floured surface until 1/3 cm (1/8 inch) thick.
Cut into 6 cm squares or any desired shape/size. Place onto prepared sheet pans and indent each cracker with a knife along the middle, making sure not to cut all the way through. Prick the rest of the cracker with a fork.
Bake for 15-20 minutes until lightly golden brown.
Allow to cool and store an air tight container for up to a week.
No nutritional info supplied