Low Carb Lemon Tartlets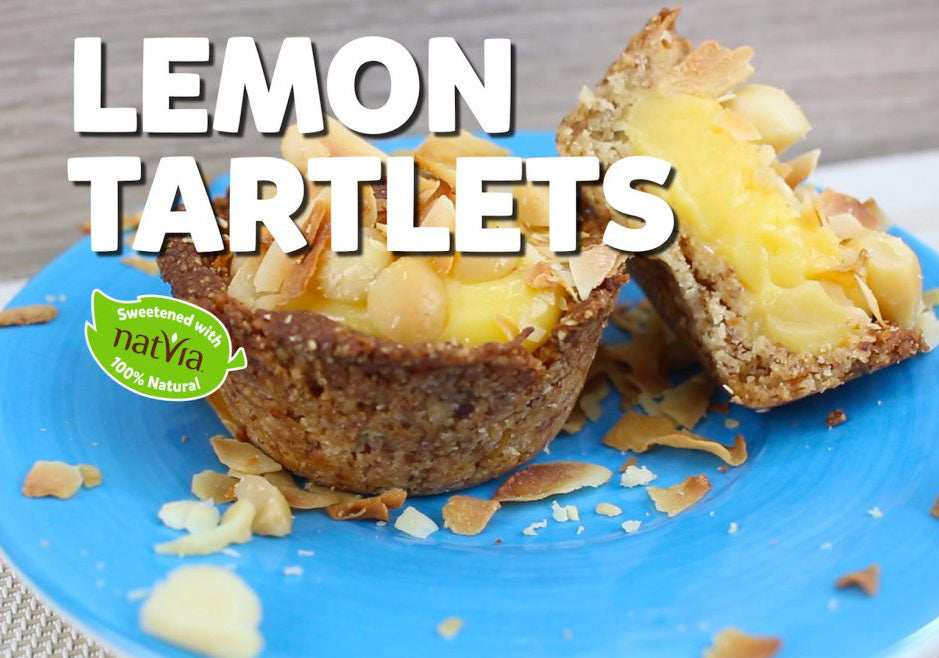 This is a healthy Low Carb Lemon Tartlets dessert recipe alternative made completely without sugar. Gluten Free Low Carb Lemon Tartlets recipe by Natvia. Made with Natvia 100% Natural Sweetener! That's right there is no sugar used in any of our recipes! You can find more sugar-free recipes like this one and more over on our blog or check out Natvia's archive of dessert videos over at 
Healthy Treats!
Ingredients
1.5 cup Almond Flour
0.5 cup Shredded Coconut
1 cup Natvia
100 g Melted Butter
1 teaspoon Vanilla Extract
0 Zest half a lemon
2 Egg Yolks
2 Egg
0.5 cup Natvia
2 Zest and Juice from 2 Lemons
80 g Butter
0.5 cup Macadamias
0.33 cup Flaked Coconut
Method
Preheat oven to 160°C & prepare grease a muffin tray.
Add 1 & 1/2 cups almond flour, 1/2 cup shredded coconut, and 1/3 cup Natvia to a mixing bowl.
Stir the mixture until combined then add 100g melted butter and 1 tsp of Vanilla Extract and continue to mix.
Zest half a lemon into the mixture and continue to stir.
Pack the tart crust mixture into the greased muffin tray and bake the tarts for 8 - 10 minutes at 160°C.
In a saucepan, add 2 egg yolks, and also follow that up by adding 2 full eggs.
Add 1/2 cup Natvia to the saucepan and whisk.
Zest & Juice 2 lemons into the saucepan and add the mixture to medium low heat whilst stirring.
Add 80g butter whilst stirring the mixture with a whisker.
Drain the lemon curd with a sieve.
Chop 1/2 cup Macadamias roughly and add them to a flat baking tray.
Sprinkle 1/3 cup of flaked coconut onto the baking tray also.
Add this to the oven and let the topping contents turn golden brown before removing.
Remove the tart crusts from the oven and fill them up each with the lemon curd mixture.
Once the tarts are filled, sprinkle the topping contents on the tops of the tarts.
Pass them along and enjoy!
No nutritional info supplied