Matcha Mille Crepe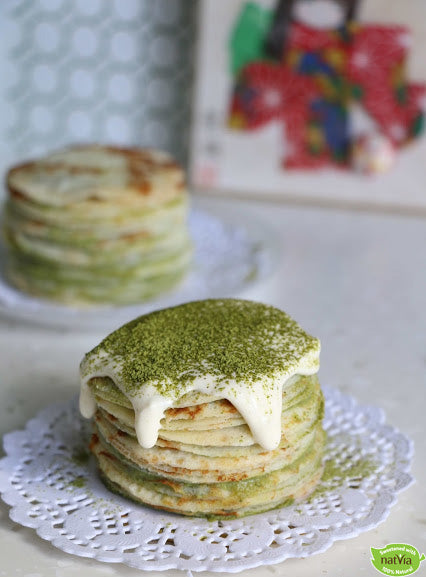 Serves: 1- 2
Prep: 10 Minutes
Cook: 10 Minutes
Ingredients
Crepes:
1 cup/150g

 plain 

flour

1 tbsp/14g 

Nativa Sweetener 

1/4 tsp

salt

2 each

egg,

beaten

2 cups/500ml/

 

whole milk

1/3 cup/80ml

Vegetable oil

more for frying
Matcha Pastry Cream:
2 tsp

plain flour

1 tbsp/7g

 

Cornstarch

1 each

egg

1 tbsp/14g/0.5 oz Nativa Sweetener 

1 tsp

Vanilla

2/3 cup/160ml 

whole milk

1 tbsp/7g

 

Matcha powder

1 tbsp/20ml

 

Hot water

1 tbsp/14g Natvia Sweetener 
For topping:
1/2 cup/120ml/4.2 oz

Heavy Cream

as needed

Natvia Icing Mix 

as needed

Matcha powder
Method
Starting with the Crepes, In a large bowl, whisk together flour, Natvia and salt. Add milk, beaten egg, vegetable oil and whisk until smooth, with no lumps
Dab a paper towel with vegetable oil and grease a nonstick skillet.
Ladle a serving of crepe batter and swirl to cover the bottom of the pan completely. Let it cook until dry and edges begin to turn brown. Quickly flip over and cook for 30 seconds.
Transfer the crepe to a plate to cool. Repeat with the rest of the batter.
Moving on to the Matcha Pastry Cream, In a medium bowl, mix Natvia and egg. Sift in corn flour and flour into the egg mixture. Mix until a smooth paste formed.Meanwhile, heat milk in a saucepan. Remove from heat and slowly add to egg mixture, while constantly whisking the egg to prevent curdling.
Strain mixture through a sieve and return into the saucepan. Over medium heat, bring mixture to boil and whisk mixture constantly until it starts to thicken. Immediately remove from heat and stir in vanilla.
Pour into a clean bowl and cover with plastic wrap touching the surface of custard. Refrigerate until needed.In a bowl, mix together matcha powder and hot water. Add in Natvia and honey. Mix well.
Remove pastry cream from the fridge and combine with matcha mixture.
Lastly how to assemble, Using a 2" cookie cutter, cut out circles from crepes. Place a mini crepe in 2" cake tin, spread a teaspoon of matcha pastry cream and cover with another crepe. Repeat the layers, leaving the top layer without cream.
Place in the fridge to chill. When serve, dollop whipped cream and dust generously with matcha powder and powdered sugar.
No nutritional info supplied