Mint Slice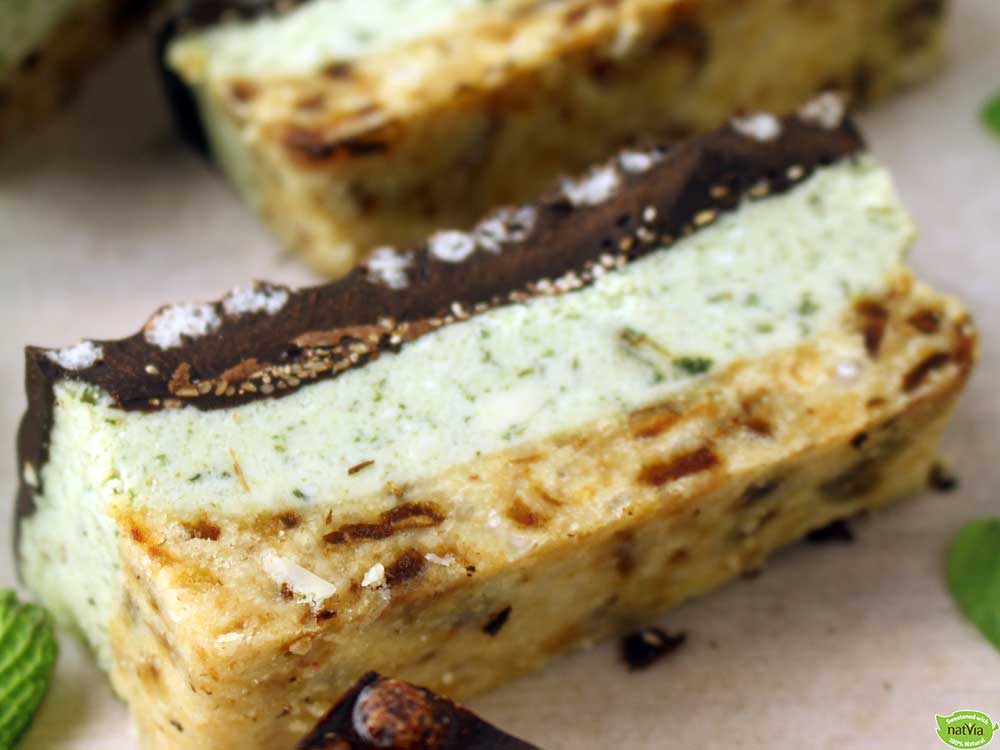 Up your mint slice game and create these beautifully delicious layered Vegan Mint Slices! Using fresh mint, we've brought a whole new fresh flavour to everyone's favourite Mint Slice. This refined sugar-free treat is super easy to slice into dessert finger food making it great for entertaining! You can find more sugar-free recipes like this one and more over on our blog or check out Natvia's collection of dessert videos over at 
Healthy Treats!
Serves: 8-10
Prep time: 1h 30 mins
Cooking time: 5 hours
Ingredients
Base
5 cup Almond Meal
½ cup Coconut oil, softened
½ cup Dates
Mint Filling
1 cup Cashews
3 tbs Coconut Oil
½ cup packed Mint leaves
½ cup Natvia
¼ cup + 1 tbs cup Coconut Cream
Chocolate topping
2 tbs sugar free Puffed rice
¾ cup Coconut oil
¾ cup Cacao powder
1 tbs chia seeds
Method
Soak the cashews and the dates separately in 1 cup of boiling water for at least 6 hours, or overnight in the refrigerator.
Drain and blend the dates until smooth and stir with the almond meal and coconut oil until combined. The mix should hold together when pressed between two fingers, if not add 1 tbs cold water and stir. Spoon into a greased and baking paper lined tray (30cmx 15cm) and firmly press down with a spatula. Place in the refrigerator.
Drain the cashews and blend together with the coconut oil, mint leaves, Nativa and coconut cream. Spoon over the top of the base and smooth with a spatula. Place in the freezer for at least 1 hour.
Melt the coconut oil over a saucepan with heated water and add the cacao powder, stir until smooth. Add the chia seeds and let sit for a few minutes as it cools, stirring often.
Sprinkle the puffed rice over the mint filling. Pour over the chocolate topping and ensure the puffed rice is coated.
Freeze for at least 4 hours or overnight.
Remove to the fridge 1-2 hours before serving.
Sprinkle with puffed rice and then pour over the chocolate. Freeze for 3-4 hours. Remove to the fridge 1 hour before serving.
No nutritional info supplied