Peaches and Cream Pie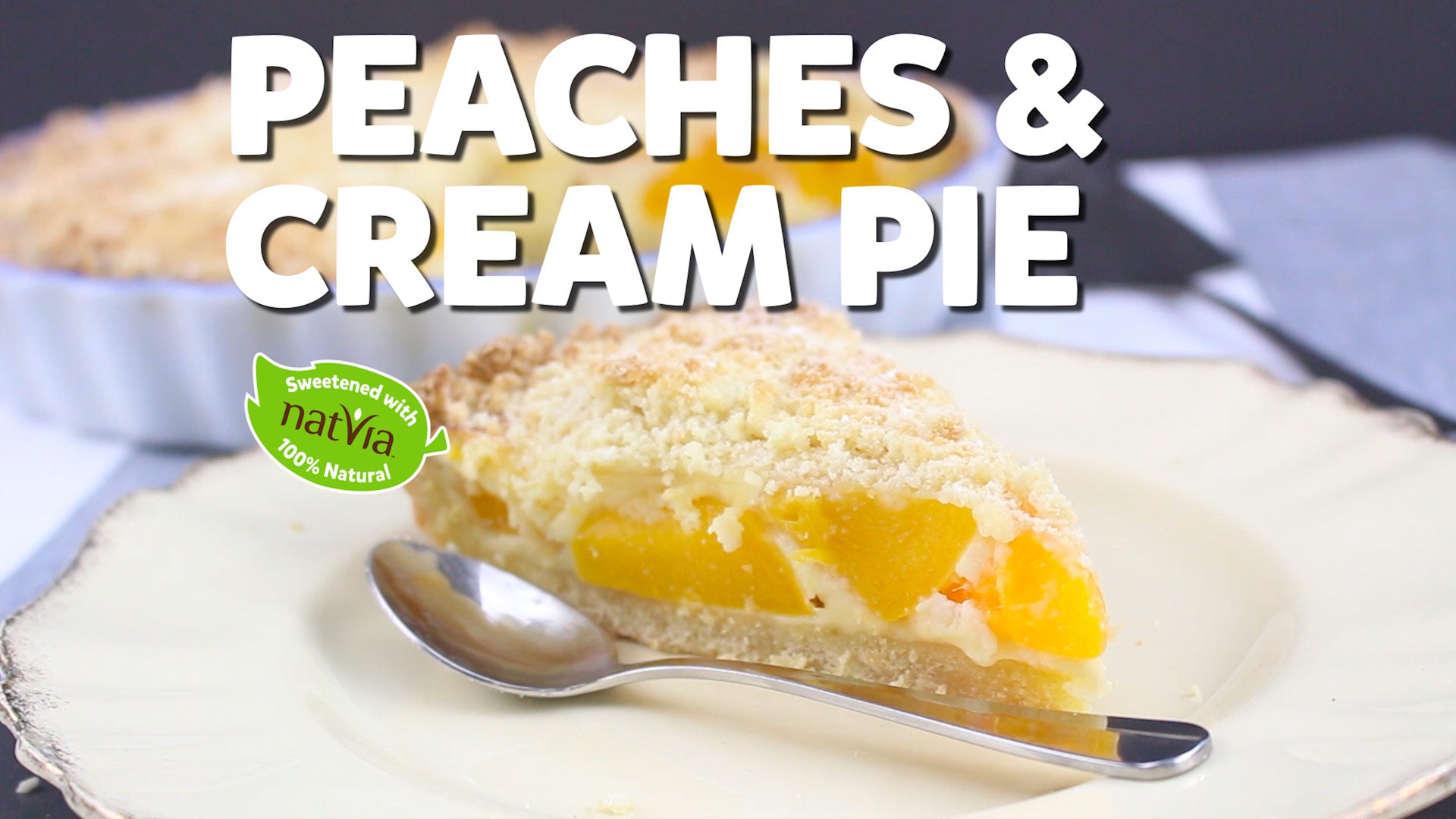 This is a healthy dessert recipe alternative made completely without sugar. A classic Peaches and Cream Pie made without sugar. Yes it is sugar free. A healthiest version of peaches and cream pie you can get, by Natvia. Made with Natvia 100% Natural Sweetener! That's right there is no sugar used in any of our recipes! You can find more sugar-free recipes like this one and more over on our blog or check out Natvia's archive of dessert videos over at 
Healthy Treats!
Ingredients
225 g Butter
500 g Plain Flour
0.5 cup Natvia
2 Eggs
2 Eggs
175 mls Milk
1 tablespoon Cornflour
175 g Greek Yogurt
1 teaspoon Vanilla Extract
275 g Natvia
0 Pinch of Salt
0 Peaches (2x 410g tins) (or approx 800g fresh sliced peaches)
Method
Preheat oven to 180°C Fan.
Start by adding 225g cubed butter to a standing mixer.
Add 500g plain flour and pulse the stand mixer until the flour and butter resembles bread crumbs.
Add a 1/2 cup of Natvia (icing mix preferred), and 2 eggs and continue to pulse the stand mixer until the mixture inside has formed dough like clumps.
Sprinkle some dough down on the table with some flour and roll the dough into one large ball.
Wrap the ball of dough in plastic wrap and refrigerate for 20 mins until chilled and the ball holds together.
Once chilled, remove the dough from the fridge and roll into a flat 40cm circle.
Roll the flattened dough pastry up into a rolling pin and use the rolling pin to roll the pastry out across the base of a pastry oven baking dish.
Trim pastry edges off the baking dish sides. Poke holes with a fork in the bottom of the pastry.
Lay down some baking paper across the face of the pastry and lay down some bling baking balls.
Blind bake the pastry crust for 15 - 20 minutes at 180°C or until crispy and browned.
Add 2 Eggs to a new mixing bowl, as well as 175ml milk, 1 tbsp cornflour, 175g greek yogurt, and 1 tsp vanilla extract.
Add in 275g Natvia (icing mix preferred - either is acceptable) and a pinch of salt and whisk the mixture together.
Once throughly whisked together, set the cream mixture aside.
Take the crust out of the oven if you have not already.
Fill the base of the pie pastry with the peaches and evenly spread them around. Once the peaches have been placed, pour the cream mixture over the top of the pie and also spread it around evenly.
Bake for 40 mins at 180°C.
Once in the oven and baking, you can optionally create a little bit of crumble for the top of the pie by adding 90g flour, 25g butter, and 75g Natvia together and rubbing with your hands until it forms bread crumbs and then sprinkle this on the top of the pie when there is 15 minutes left of baking!
Let cool and serve with icing sugar and enjoy!
No nutritional info supplied