Sugar Free Plum Crumble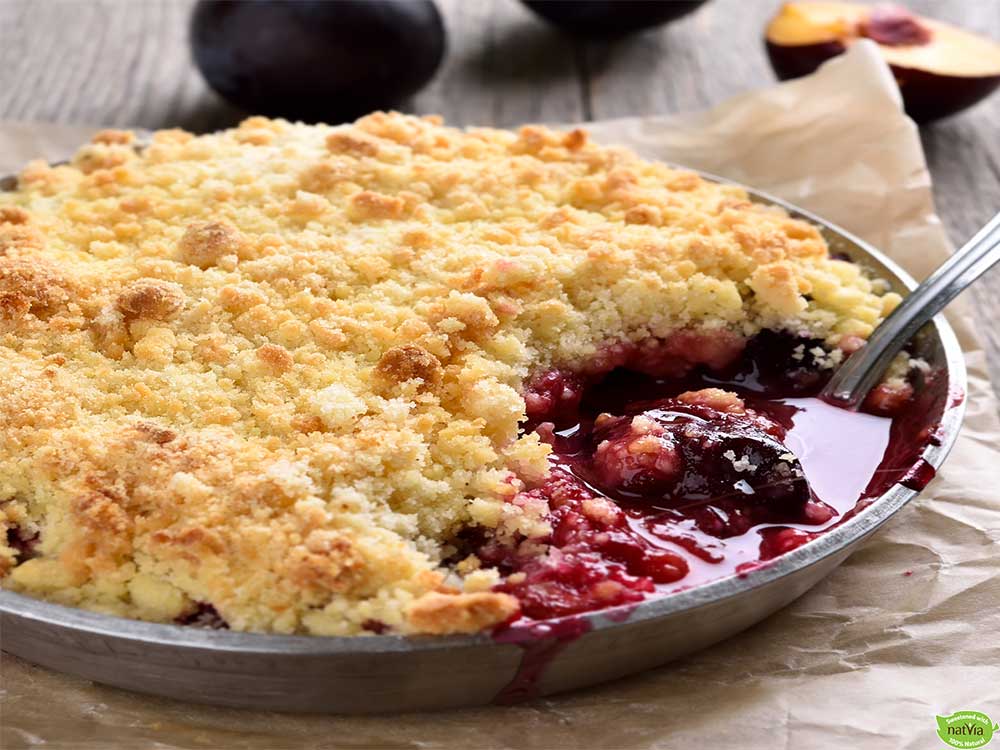 You can find more sugar-free recipes like this one and more over on our blog or check out Natvia's archive of dessert videos over at 
Healthy Treats!
Ingredients
400 g plain flour (2 2/3 cup)
140 g Natvia (3/4 cup)
2 teaspoon baking powder
83 g unsalted butter
3 Eggs
700 g Ripe Red Plums (4 cups)
0.50 teaspoon cinnamon
0.25 teaspoon ground nutmeg
62 g chilled unsalted butter, cubed
Method
Preheat oven to 170C. Grease and line a medium round pan.
Mix together 1 2/3 cups flour, 1/4 cup Natvia, baking powder, 1/3 cup butter, and the eggs in a bowl. Mix with a spoon until well combined.
Transfer to the pan. Line the dough over bottom and sides of pan. Followed by adding the plums.
Combine the remaining flour, Natvia, cinnamon, and nutmeg together in a separate bowl. Add the 1/2 cup cold butter and mix with hands. Sprinkle the crumb evenly over the plums.
Bake cake for 40 minutes or until golden brown.
Cool on a wire rack. Serve in slices or straight from the pan.
Optionally you can add cream, enjoy while still warm!
No nutritional info supplied