Pumpkin Pie Pop-Tarts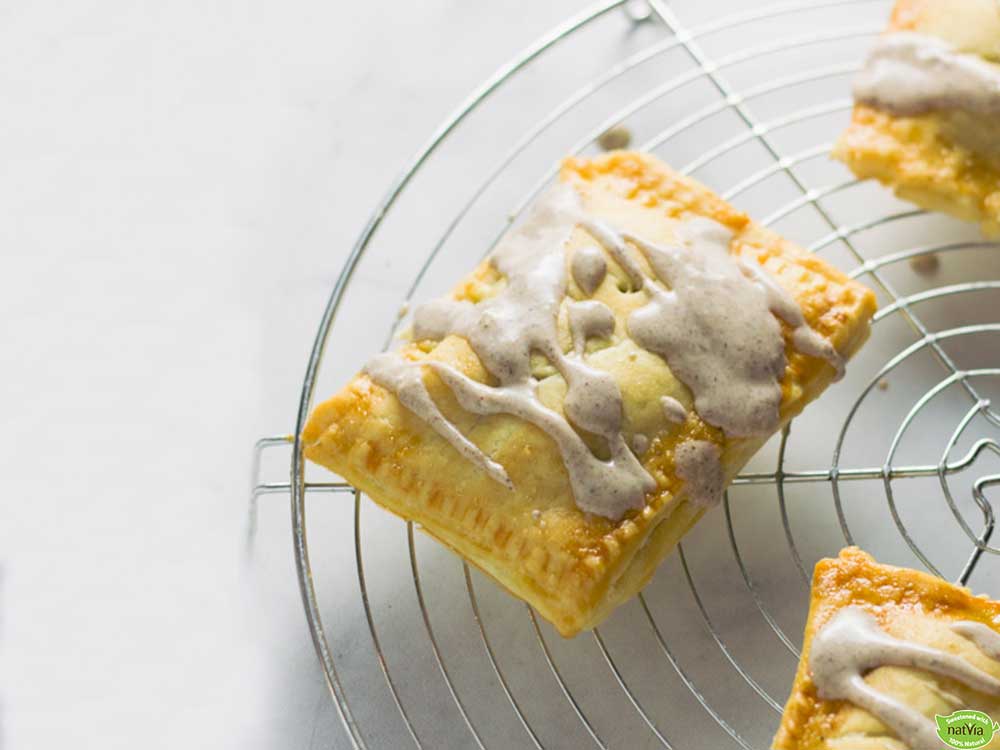 Recipe by
Add Some Veg
These delicious, buttery flaky pop-tarts have a yummy warming pumpkin pie filling that makes them a perfect cold-weather treat. Great for Halloween, Bonfire Night, Thanksgiving, or just for a decadent breakfast or dessert this autumn.
Liked this recipe? SAVE it to your collection. You can find more sugar-free recipes like this one and more over on our Youtube at 
Healthy Treats
. Liked this recipe? SAVE it to your collection
Serves: 6 - 6
Prep: 10 minutes
Cook: 20 minutes
Ingredients
PASTRY:
250 g Plain flour (or use half-and-half wholewheat or wholegrain spelt and plain/all-purpose)
Pinch of salt
110 g Unsalted butter (for dairy free, use lard or shortening and add an extra 1/2 teaspoon of Natvia), cold and diced
1 Egg
1.5 teaspoon Natvia to sweeten pasty, optional
1 Egg, beaten for glazing
FILLING:
125 g Pumpkin, squash or sweet potato puree (unsweetened - pre-made or homemade by baking a sweet potato in the oven, removing the skin and pureeing)
2 teaspoon Pumpkin pie spice mix
1 teaspoon Natvia, blitzed, to taste.
Method
First, make the pastry:
Combine flour, salt and butter in a mixer and pulse until the mixture resembles coarse breadcrumbs (about 10 seconds), add the Natvia and 1 egg, and blitz until the dough just comes together, adding a little ice cold water if necessary. Bring dough into a ball with your hands, flatten into a disc and cover in cling film. Chill in the fridge for 20-30 minutes. To make the filling, mix the pumpkin puree with the spice mix and Natvia to taste, if needed. Set aside and preheat the oven to 200C/400F/gas 6.
Roll out the pastry on a clean, floured surface to a large rectangle about 60x80cm (23x31in - don't worry too much about the size, just try and get it nice and thin, around 3-5mm thick if possible; you can always do this in two batches if you don't have a big enough space to roll all the dough out - just roll half the pastry now and the other half when the first pop-tarts are baking).
Cut the rectangle in half lengthways and then cut each strip into 6-8 small rectangles (depending on how big/thin you have managed to get the pastry) so you have 12-16 pastry pieces in total. Spoon a heaped tablespoon of the filling into the centre of half the pastry pieces, then top with the other ones, so you have 6-8 covered pies. Press down the pastry with your fingers to seal and poke two small holes in the top of each pie with a skewer or sharp knife.
Place the pies on 2 lined baking tray and brush lightly with beaten egg, then bake in the preheated oven for 15-20 minutes, until the pastry is golden and crispy. Allow to cool completely.
When the pies are cool and ready to glaze, mix the yogurt and spice mix (and Natvia, if using) and drizzle over the top of the pies to glaze. Serve straightaway.
| | | | | | |
| --- | --- | --- | --- | --- | --- |
| Carbs | Pro | Fats | Energy KJ | Calories | Serving size |
| 32.9g | 8.2g | 19g | 1430 | 342 | 104g |