Raspberry, Lemon & Almond Crumble Cake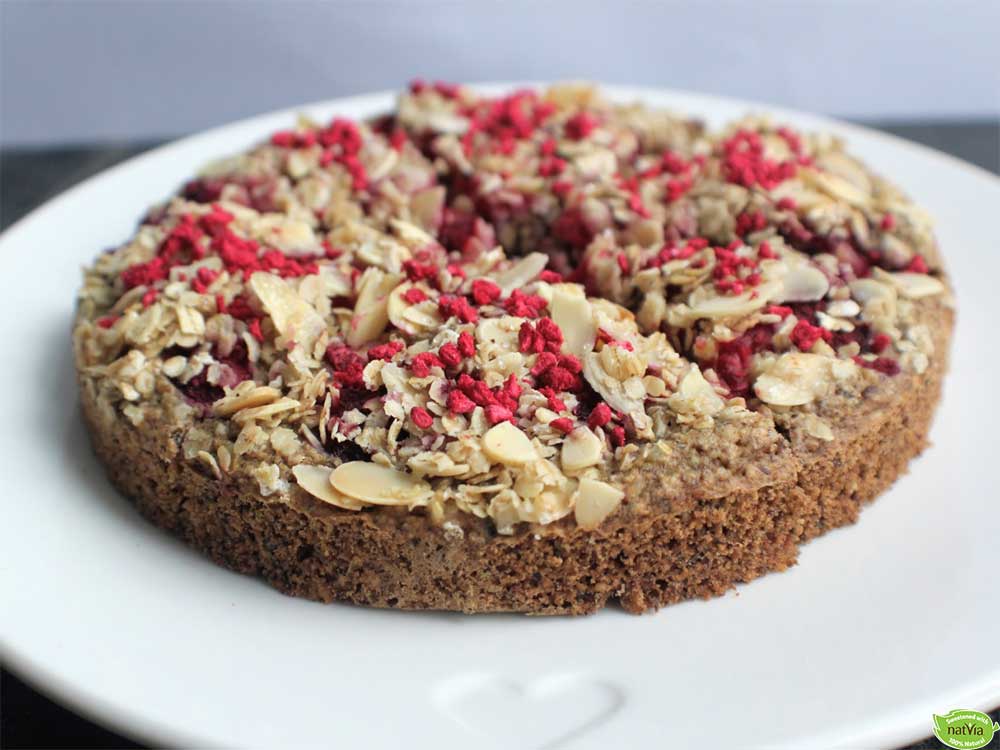 Looking for a beautifully nutritious crumble? We have just the thing. Incorporating fresh raspberry and lemon flavours with the nutty goodness of almonds, this crumble tastes just as scrumptious as it looks and will go down a treat with a nice warm cuppa! Refined sugar-free and flavours for days, this one is a sure winner! You can find more sugar-free recipes like this one and more over on our blog or check out Natvia's archive of dessert videos over at 
Healthy Treats!
Ingredients
100 g oat flour
50 g spelt flour
50 g ground almonds or almond flour
50 g Natvia sweetener
1 teaspoon baking powder
1 teaspoon bicarbonate of soda
2 tablespoon flaxseeds (mixed with 4 tablespoons water)
2 Zest and juice of lemons
3 tablespoon oil (light olive, rapeseed or melted coconut oil)
150 mls almond milk
1 teaspoon apple cider or white wine vinegar
0.5 teaspoon almond extract
0.5 teaspoon vanilla extract
150 g fresh or frozen raspberries
3 tablespoon rolled oats
3 tablespoon flaked almonds
1 tablespoon Natvia sweetener
1 tablespoon oil
Method
Preheat the oven to 180 degrees C and lightly grease and line a 20cm loose-bottomed cake tin.
Mix together the flours, almonds, Natvia, baking powder and bicarbonate of soda in a large bowl. Stir the flaxseeds and water and set aside for 10 minutes.
Add the lemon zest and juice, oil, milk, vinegar, almond, and vanilla extract along with the flaxseed mixture to the dry ingredients and mix well to form a slightly thick batter.
Spoon into the prepared tin and spread out evenly. Scatter over the raspberries to cover.
Mix together the topping ingredients then sprinkle over the fruit evenly Bake in the oven for about 35-40 minutes (cover after about 10 minutes to prevent the flaked almonds from burning), until firm to the touch.
Leave to cool in the tin, then carefully remove and slice into 6. Enjoy! Keep any remaining slices in an airtight container in the fridge for up to 3 days.
No nutritional info supplied