Simple Vegan Vanilla Cupcakes (Sugar-free, Oil-free)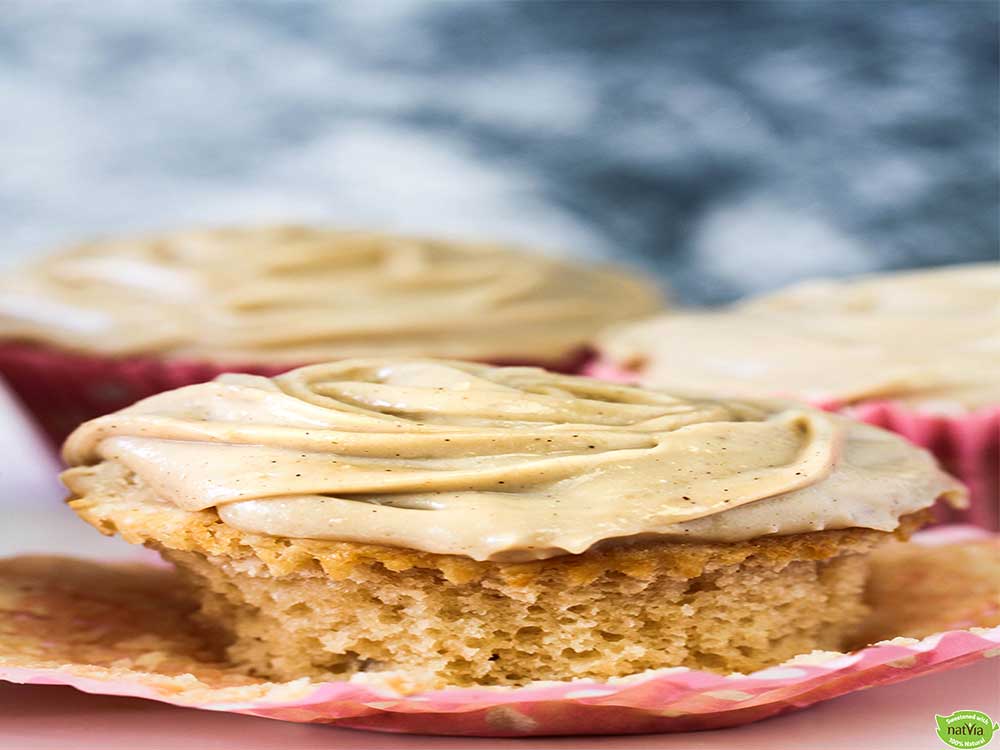 Cupcakes have been universally accepted as one of the most delicious things ever created by man (okay, maybe not universally but we're HUGE fans). A simple and easy dessert for you to prepare and indulge in, these vanilla cupcakes are clear of all refined sugars, oil free and VEGAN! How great is that? The perfect treat to indulge on your own or one to take to work and surprise your colleagues with, knowing this recipe is for just about everyone! You can find more sugar-free recipes like this one and more over on our blog or check out Natvia's archive of dessert videos over at 
Healthy Treats!
PREP TIME 1 hour 5 mins
COOK TIME 25 mins
TOTAL TIME 1 hour 30 mins
Serves 9 Cupcakes
Ingredients
0.75 cup almond milk
2 tablespoon apple cider vinegar
1.25 cup plain flour
0.66 cup Natvia
1 teaspoon baking soda
0.25 teaspoon salt
2.5 teaspoon vanilla extract
0.25 cup applesauce
0.75 cup cashews, soaked in water overnight, drained
0.5 cup coconut cream, refrigerate overnight, use only harden/thick cream layer on top
0.33 cup 1 tablespoon maple syrup
2.5 teaspoon vanilla extract
2 tablespoon Coconut Butter or oil
Method
Preheat oven to 180°C/355°F fan forced. Line a muffin tray with 9 patty pans and grease each one.
Make the cupcakes. Begin by mixing the almond milk and apple cider vinegar in a measuring jug. Leave for 5 minutes for it to curdle and turn to "buttermilk".
In the bowl of a stand mixer, sift in the flour, Natvia, baking soda and salt. With the whisk attachment fitted, whisk until combined.
Combine the vanilla and apple sauce into the almond milk mixture. Stir to combine. With the stand mixer running on low, slowly pour the wet ingredients into the dry. Whisk gently to combine, being careful not to over mix.
Fill each patty pan ⅔ Bake in the oven for 20-25 minutes or until golden brown on top and a skewer inserted into the middle comes out clean. Remove from the oven and leave to cool completely in the tray.
Meanwhile make the icing . In a high speed blender or food processor, add in all the ingredients. Blend together until a smooth cream is formed. Transfer to a bowl, cover and place in the fridge for 40-60 minutes to firm. After this time if your cream is too runny and won't hold its shape, put it back in your blender and add ¼ cup raw cashews. Blend to combine.* 
Fill a piping bag fitted with a 2D nozzle with the frosting. Pipe a rose onto each cupcake. Sprinkle with cacao nibs (optional). Serve.
No nutritional info supplied