STRAWBERRY CHEESECAKE BROWNIES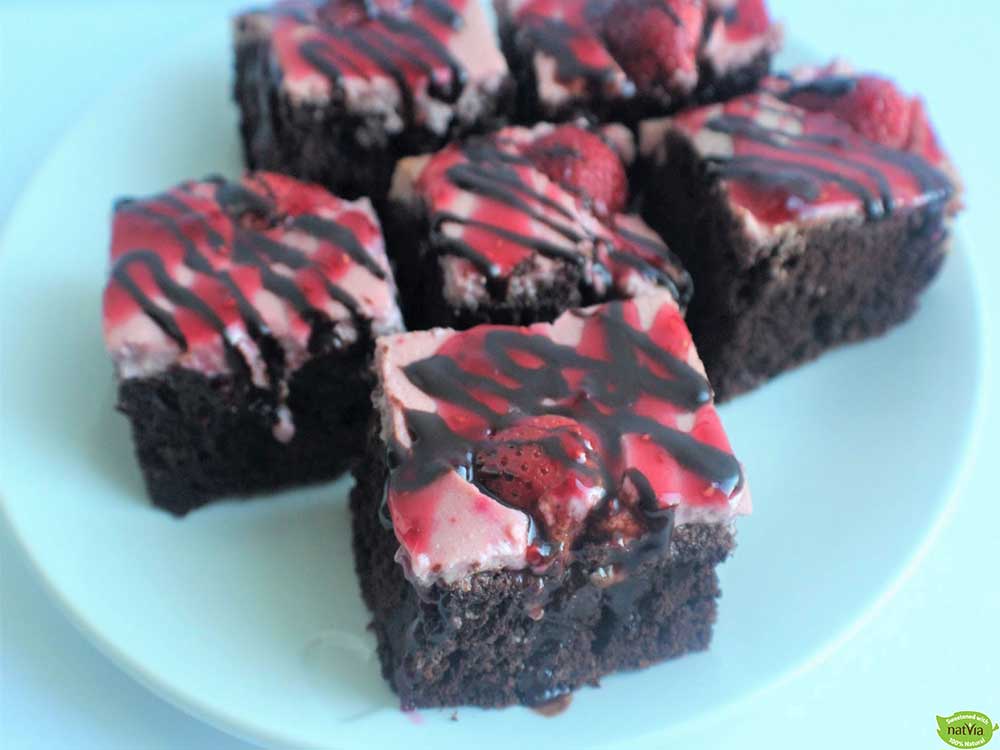 It's no secret we LOVE cheesecake at Natvia! It's also no secret that we LOVE a good twist on some of our favourite desserts (For example, see our 
Brookie
- a brownie and cookie combination). Knowing this, you can imagine our absolute delight feasting our eyes on these Strawberry Cheesecake Brownies for the first time! These pillows of deliciousness taste just as amazing as they look. Combining some of our favorite elements of each dish, this refined sugar-free treat will leave you smiling from ear to ear!
You can find more sugar-free recipes like this one and more over on our blog or check out Natvia's archive of dessert videos over at Healthy Treats!
Ingredients
For the base 
3 eggs 100g Natvia natural sweetener 75ml melted coconut oil 6 tablespoons cacao or cocoa powder 1 teaspoon vanilla extract 1 teaspoon baking powder 100g plain flour (can be gluten-free) 50g ground almonds
For the cheesecake layer 
200g 0% fat Greek yogurt or Quark 3 tablespoons strawberry jam (no added sugar) 1 tablespoon cornflour 1 egg 1 teaspoon vanilla extract 6 strawberries, halved
Method
Preheat the oven to 180 degrees C and grease and line a 9x9in deep square baking tin.
First make the brownie layer: Place the eggs in a large bowl with the Natvia and oil. Use an electric whisk to beat together for 3-4 minutes until thickened and creamy.
Mix together with cacao/cocoa powder with ½ cup hot water and whisk well.
Add the baking powder and chocolate mix to the bowl and continue to whisk to 30 seconds, then add the flour, ground almonds and vanilla. Beat until you have a nice smooth batter.
Spread this over the base of your tin and smooth out evenly. Bake in the oven for 10 minutes.
Meanwhile blend together the yogurt with the jam, cornflour, egg and vanilla until smooth.
Remove the base from the oven, pour the cheesecake mixture over then arrange the strawberries on top.
Return to the oven, reduce the temperature to 170 degrees and continue to bake for 20 minutes, until firm.
Leave to cool in the tin completely, then chill in the fridge for at least an hour.
When you're ready to serve, cut into squares and carefully remove. Drizzle over some warmed jam and some melted sugar-free dark chocolate - then enjoy!
No nutritional info supplied