Vegan Raspberry Bounty Bars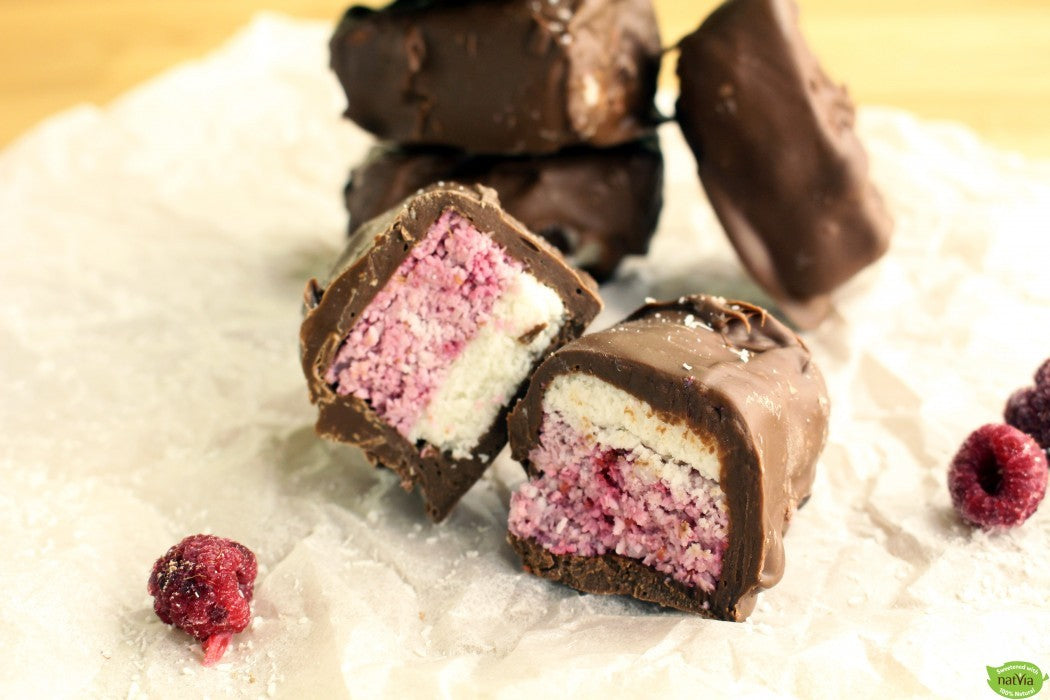 There's nothing like biting into a delicious, chocolate coated coconut bar. We've built on our super popular
Vegan Bountry Ba
r
recipe and added a delicious layer of raspberry into the mix. Surpise everyone with the coconut bar they know and love, now with a fresh and tasty twist. You can find more sugar-free recipes like this one and more over on our blog or check out Natvia's collection of delicious and sugar-free dessert videos over at 
Healthy Treats!
We love feedback so comment below and if you decide to make it yourself, be sure to 
share it 
with us. We can't wait to hear what you think!
Serves: 16
Prep time: 25 Minutes
Cooking time: 4.5 Hours
Ingredients
3 cups Desiccated coconut ½ cup Coconut cream 1 teaspoon vanilla extract ¼ cup Natvia ¾ cup Raspberries 2 tablespoons coconut oil 300g Sugar free dark chocolate
Method
Combine half of the desiccated coconut, half of the coconut cream, the vanilla and the Natvia in the bowl of a food processor. Pulse until combined and the mixture sticks together when pinched between two fingers. Press into a baking paper lined 20cm loaf tin, smoothing the top. Place in the freezer.
Combine the remaining desiccated coconut and coconut cream with the raspberries and half of the coconut oil in the food processor. Pulse until the mixture comes together, adding 1 extra tablespoon of coconut cream if necessary. Smooth on top of the coconut mixture and smooth the top. Freeze for 4 hours. Remove to the refrigerator for 30 minutes.
Melt the chocolate in the microwave until smooth, taking out to stir every 30 seconds. Stir through the remaining coconut oil until smooth.
Remove the coconut and raspberry filling from the refrigerator and slice with a sharp knife into 10 rectangles. Dip into the melted chocolate and place on a piece of baking paper. Stand for 30 minutes until set. You can also keep in the freezer for a frozen treat.
| | | | | |
| --- | --- | --- | --- | --- |
| Carbs | Pro | Fats | Energy KJ | |
| 11.6g | 2.4g | 20g | 1020 | |