Video: Sugar Free Cake with Lemon Icing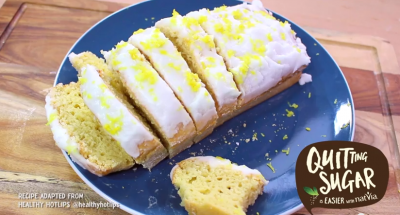 You can find more sugar-free recipes like this one and more over on our blog or check out Natvia's archive of dessert videos over at 
Healthy Treats!
Ingredients
1 1/2 cups plain flour 1/2 cup Natvia 1 1/2 tsp baking powder 2 eggs 1/2 cup unsweetened almond milk 1 tsp vanilla extract
For the Lemon Icing
1 cup Natvia Icing Mix 2 tbsp lemon juice
Method
In a large bowl, combine the flour, baking powder, and Natvia. Whisk in the eggs, milk and vanilla, continue until the batter is smooth.
Pour batter into greased pan.
Preheat oven to 180C, bake for 25-35 minutes until skewer comes out clean. Cool for 20 minutes before icing.
Combine Natvia Icing Mix and lemon juice in a small bowl.
No nutritional info supplied