Baby Banana Cheesecakes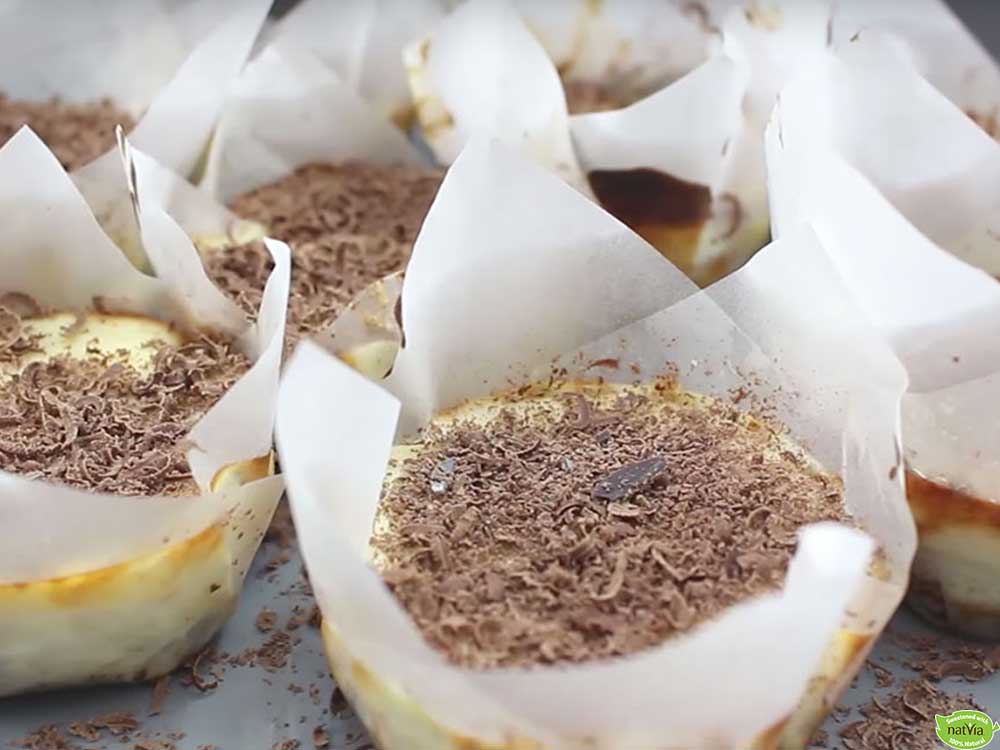 Baby Banana Cheesecake Recipe by Natvia. Made with Natvia 100% Natural Sweetener! That's right there is no sugar used in any of our recipes! You can find more sugar-free recipes like this one and more over on our blog or check out Natvia's archive of dessert videos over at 
Healthy Treats!
Makes 12 mini cheesecakes
Ingredients
1 cup walnuts
0.25 cup hazelnut meal
30 g butter, melted
220 g fresh ricotta
100 g cream cheese
0.5 teaspoon cinnamon
0.5 teaspoon vanilla extract
2 tablespoon Natvia
1 egg
1 banana
0 Sugar free dark chocolate, to garnish
Method
Spray 1/2 cup sized muffin tray with canola oil, then line the muffin tray with baking paper, cut in a cross pattern to fit in the muffin tin.
Add 1 cup walnuts to a cling wrap bag and use a rolling pin to smash walnuts until fine crumbs.
Mix the crushed walnuts and 1/4 cup hazelnut meal in a separate bowl.
Add 1/2 tsp of cinnamon powder to the bowl and mix.
Add 30g melted butter and continue to stir the mixture until it has become like coarse bread crumbs.
Spread mixture evenly between the muffin tray and each to flatten out to form the biscuit bases for each of the mini cheesecakes.
Place biscuit bases inside the muffin tray in the fridge to cool for at least 20 minutes.
As the biscuit bases are cooling, add 100g cream cheese, to a separate bowl.
Also add 220g ricotta cheese.
Add 1/2 tsp vanilla extract.
Add 2 tbsp Natvia & begin to beat mixture.
Add 1 egg and continue beating.
Beat 1 banana in seperate bowl until soft and gooey.
Add beaten banana to mixture and continue beating.
Take biscuit bases out of the fridge & pour mixture evenly across the biscuit bases.
Bake the mini cheesecake mixtures in the oven for 30 mins at 180°C
Remove baby banana cheesecakes from the oven and grate dark chocolate over the tops to garnish.
WATCH THE VIDEO
No nutritional info supplied