Delicious Banana Bread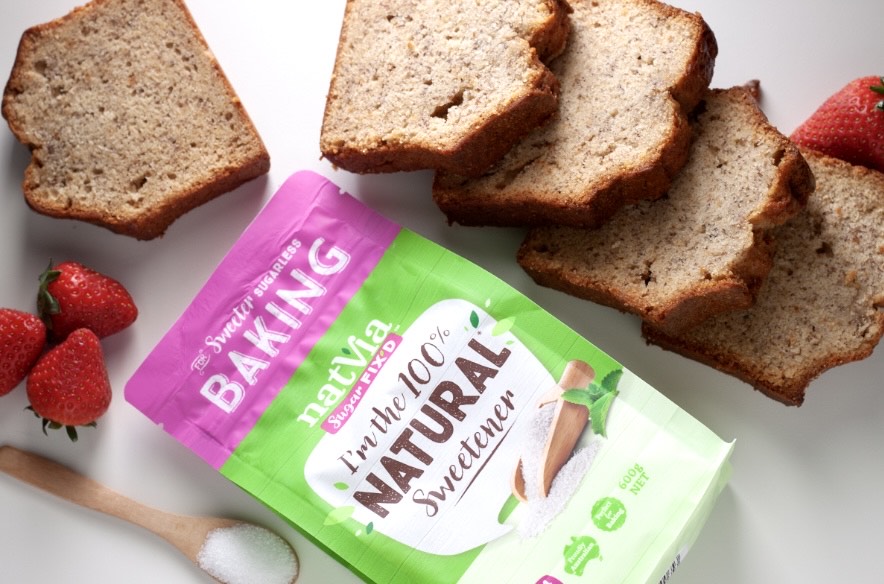 This is as wholesome and delicious as Banana Bread can get! A healthy and tasty way to enjoy those delicious taste guilt free! If you can bake it, you can make it with Natvia 100% Natural Sweetener Baking Pouch! Only 4 calories per serve and taste amazing!
SERVES: 10
PREP: 15-25 minutes
COOK: 50 minutes
Ingredients
1.5 cups self-raising flour
1/2 cup plain flour
1 teaspoon ground cinnamon
1/2 nutmeg
1/2 teaspoon bicarbonate soda
1/4 cup Natvia Baking Pouch
1 cup mashed ripe banana (3 medium)
2 eggs lightly beaten
1/2 cup vegetable oil
1/3 cup milk
1 small banana to decorate
Method
Whisk 1 cup of ripe bananas and add 2 eggs. Continue to whisk thoroughly.
Add 1/2 cup vegetable oil, 1/3 cup milk and stir the mix well.
Sift 1 & 1/2 cups self raising flour, 1/2 plain flour, 1/2 tsp cinnamon, 1/2 tsp nutmeg, 1/2 tsp bi-carb soda into a large mixing bowl.
Add 1/4 cup Natvia to the dry mixture.
Add the wet banana mixture.
Add the dry and wet mixtures together until evenly combined.
Add the combine mixtures to a lined bread baking tray and spread evenly.
Slice a small banana lengthways and place on the top of the banana bread mixture.
Bake the finished bread mix for 50 minutes at 180°C & enjoy!
| | | | | | |
| --- | --- | --- | --- | --- | --- |
| Carbs | Pro | Fats | Energy KJ | Calories | Serving size |
| | | | | | |