Banana Chocolate Doughnuts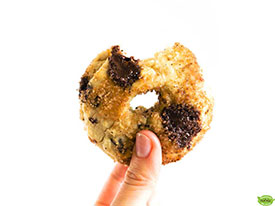 Recipe by
Raising Sugarfree Kids
These doughnuts may be sugar and gluten-free, but they are absolutely delightful, super soft and fluffy and everything a doughnut should be. Perfect served warm on a cool day with a hot cup of tea.
Liked this recipe? SAVE it to your collection. You can find more sugar-free recipes like this one and more over on our Youtube at Healthy Treats. Liked this recipe? SAVE it to your collection
Serves: 8
Prep: 10 minutes
Cook: 20 minutes
Ingredients
1.5 Ripe Bananas
2 teaspoon Natvia
125 g Full-Fat Yoghurt
5 g Butter or Coconut Oil, melted
2 Eggs
2 teaspoon Vanilla Extract
200 g Gluten-free Flour Blend
1.5 teaspoon Baking Posder
0.25 teaspoon Baking Soda
Pinch of salt
50 g 85%-90% Dark Chocolate, chopped
TO COAT:
2 tablespoon Butter or Coconut Oil, melted
1 tablespoon Natvia
2 teaspoon Ground Cinnamon or Pumpkin Spice Mix
Method
Preheat the oven to 180C/gas 4. Blitz the banana in a blender until smooth, add the Natvia, yogurt, butter, eggs and vanilla and pulse to combine.
Add the dry ingredients (minus the chocolate) and pulse a few times to mix until the mixture is just combined. Stir through the chocolate chips and pour into a greased doughnut pan or doughnut molds, filling about 2/3 full.
Bake for 15-20 minutes, until puffed up, golden and cooked through (a skewer inserted into a doughnut should come out clean).
Mix the Natvia and cinnamon. While still warm, roll the doughnuts in the melted butter and then in the Natvia-cinnamon mix to coat. Allow to cool slightly and serve warm or cold.
| | | | | | |
| --- | --- | --- | --- | --- | --- |
| Carbs | Pro | Fats | Energy KJ | Calories | Serving Size |
| 33g | 2.9g | 8.6g | 949 | 227 | 100g |