BERRY CHOCOLATE OAT TARTLETS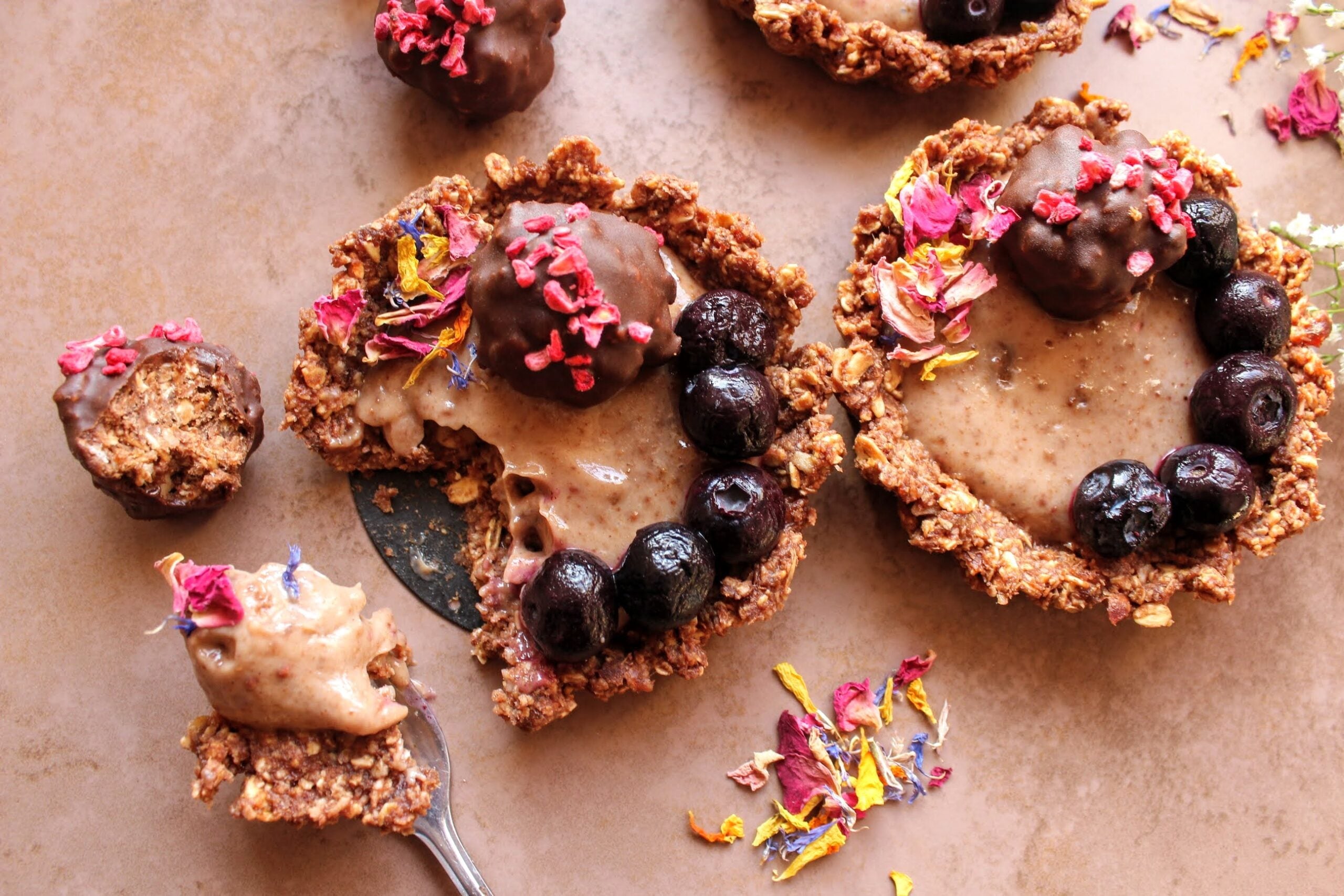 These scrumptious Berry Chocolate Oat Tartlets are definitely one to impress your friends and family! Enjoy this deliciousness guilt-free tartlets and with no added sugar, doesn't get much better then this!
Serves: 3-5
Prep: 15 minutes
Cook/Chill: 2 hours
Ingredients
TART CASES & BALLS:
100g oats
50g granola
100g dates, soaked in boiling water for 10 minutes
2 tablespoons coconut oil, melted
2 tablespoons nut butter
4 tablespoons cocoa powder
75g no added sugar dark chocolate + 1 tablespoon coconut oil
FILLING:
150g thick Greek or coconut yogurt
3 tablespoons Natvia natural sweetener
2 tablespoons raspberry powder (optional)
Blueberries, to decorate
Method
First make the cases and balls - place the dates, oil and cocoa powder into a blender or food processor until thick and smooth. Add in the oats and granola and pulse a couple of times until combined.
Set aside ⅓ of the mixture and the rest divide between 3-4 individual loose bottom tartlet tins. Press up the sides and on the bottom then chill.
Meanwhile mix together the yogurt, sweetener and raspberry powder. Divide between the tartlet tins and fill to reach the top of each and smooth out. Chill for 2 hours.
With the rest of the granola oat date mixture, divide into 10-12 pieces and roll into balls. Melt the coconut oil and chocolate then dip each ball in to coat. Sprinkle over dried raspberries and chill in the fridge for 2 hours. Pop on top of the tartlets along with some blueberries - then enjoy!
No nutritional info supplied