LCHF Berry Crumble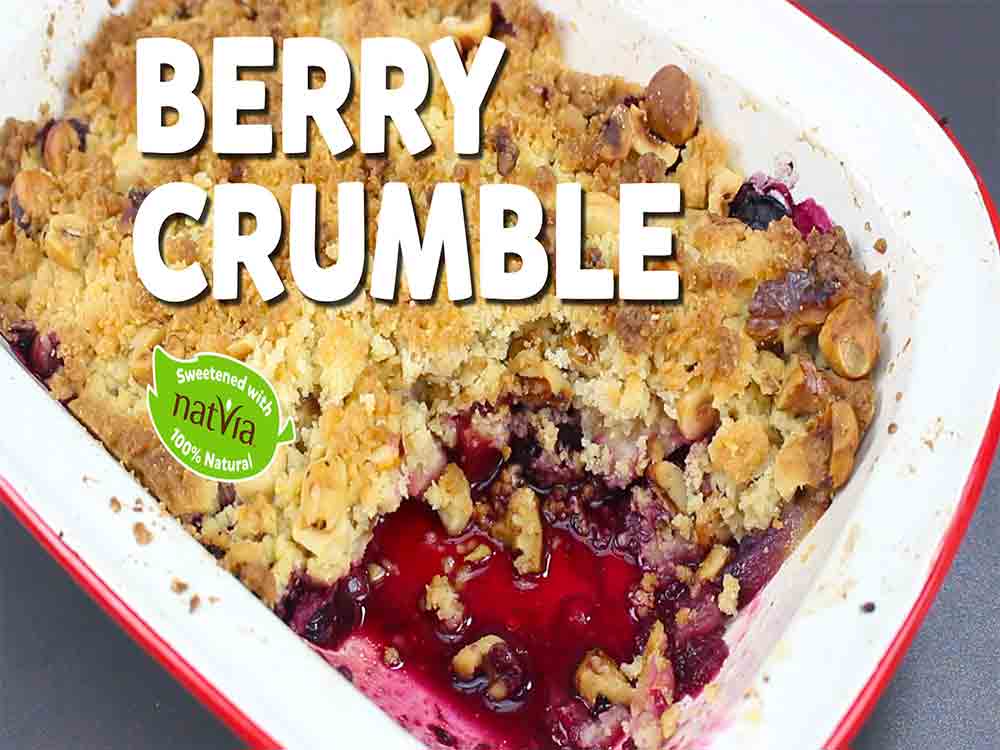 This is a healthy dessert recipe alternative made completely without sugar. A healthy LCHF (low carb high fat) Berry Crumble recipe by Natvia. Made with Natvia 100% Natural Sweetener! That's right there is no sugar used in any of our recipes! You can find more sugar-free recipes like this one and more over on our blog or check out Natvia's archive of dessert videos over at 
Healthy Treats!
Ingredients
3/4 Cup Self Raising Flour
1/3 Cup Natvia Pinch of Ground Cinnamon Pinch of Ground Ginger 100g butter 45g Hazelnuts 45g Walnuts
Apple & Berry Filling:
1 Green Apple
Pinch of Ground Cinnamon 500g Raspberries 250g Blueberries
Method
Preheat oven to 180°C Fan.
Start by adding 100g cubed butter (cold) to a mixing bowl.
Add 3/4 cup of Sale Raising flour to the mixing bowl as well as 1/3 cup Natvia.
Add a pinch of ground cinnamon and ground ginger each and rub the mixture together loosely until it resembles breadcrumbs.
Once it has become like breadcrumbs, add 45 Hazelnuts and 45g Walnuts to the crumble mixture. Mix this together and then set aside.
Peel a green apple and diced it into cubes and add then to an oven baking dish. A litre ovenproof dish will be best.
Add another sprinkle of cinnamon to the dish with the apple in it.
On top of the seasoned cinnamon apple, add 500g raspberries, and 250 blueberries.
Use your hands to mix the contents of the oven dish together.
Top the dish of fruits with the crumble mixture and evenly create a top layer.
Bake the crumble for 40 minutes at 180°C Fan or until golden brown.
Take out of the oven and let cool before serving optionally with some cream etc!
No nutritional info supplied