BERRY HEART CHEESECAKES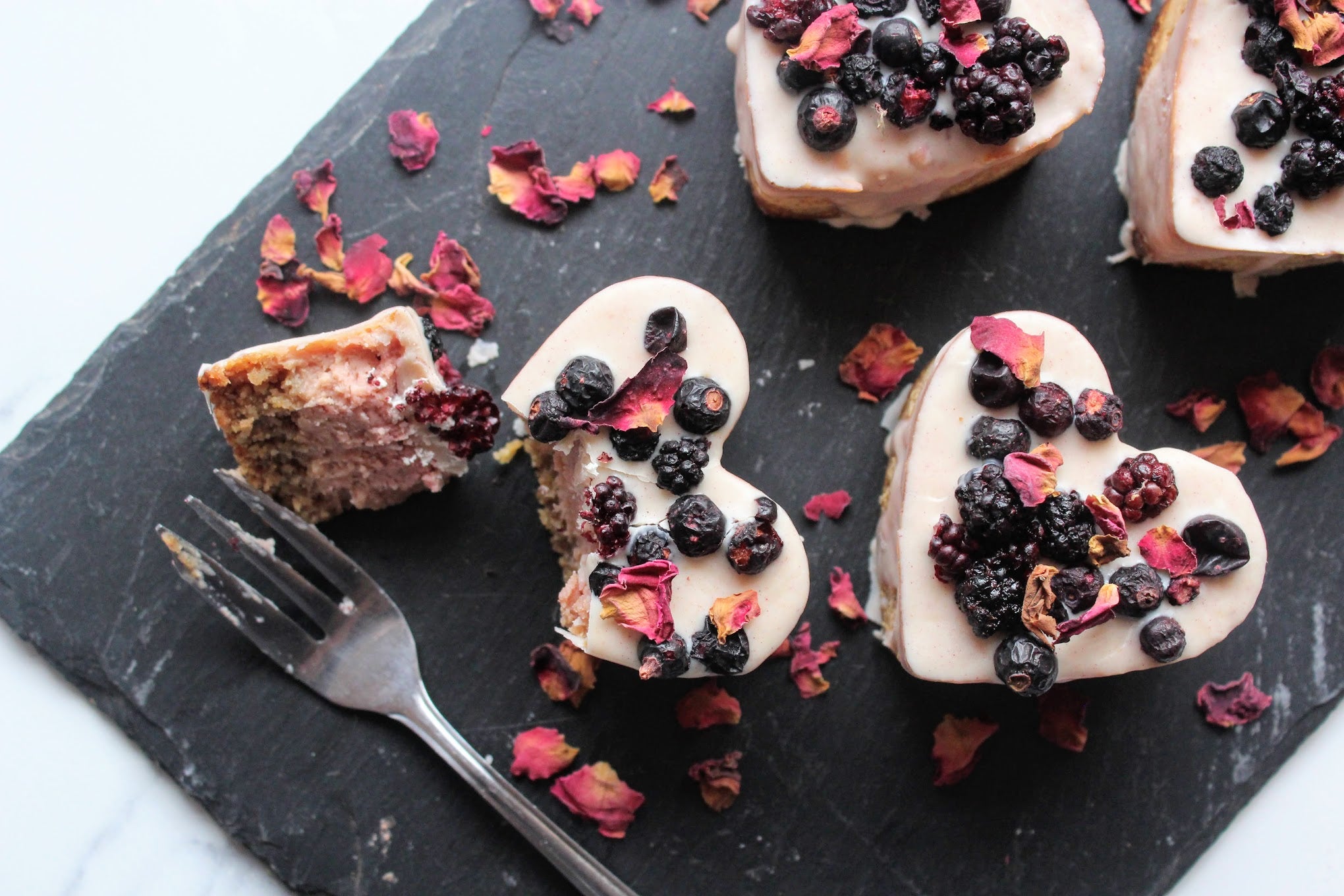 Berry Heart Cheesecakes are super quick, creamy, and fruity delights for a guilt-free dessert for yourself or your special someone. Easy to whip up in under 20 minutes and chilled for 2 hours, these low carb cheesecakes will make a lasting impression for a special date. Liked this recipe? SAVE it to your collection. You can find more sugar-free recipes like this one and more over on our Youtube at Healthy Treats.
Serves: 4
Prep time: 15 Minutes
Cook/Chill: 20 minutes then 2 hours chilling
Ingredients
2 tablespoon Nutbutter
50 g Ground Almonds
6 Oatcakes
2 tablespoon Melted Coconut Oil
250 g Soft Cheese
1 Egg
50 g Natvia Sweetener
3 tablespoon Berries Powder (optional)
1 tablespoon Cornflour (heaped)
1 teaspoon Vanilla Extract
2 tablespoon Coconut Oil
75 g No added sugar white chocolate, broken into pieces
1 Freeze-dried berries, to decorate
Method
First make the base: Place the oatcakes and ground almonds into a blender and whizz up until broken down. Add in the nut butter and oil and whizz again until the mixture comes together
Divide between 4 x individual silicone heart cases (or round ones), fill to reach ⅓ and press down. Preheat the oven to 170C.
Next blend the cheesecake ingredients until quite thick and smooth. Pour between the silicone cases to fill to the top of each. Place on a baking tray and bake for 20 minutes until firm. Leave to cool then chill in the fridge for 2 hours
Carefully pop out of the cases and place on a wire rack. Gently melt the coconut oil and white chocolate and spoon over each heart to cover.
Sprinkle over freeze-dried berries (and dried rose petals). Chill for a further 30 minutes - then enjoy!
No nutritional info supplied