Chocolate Babka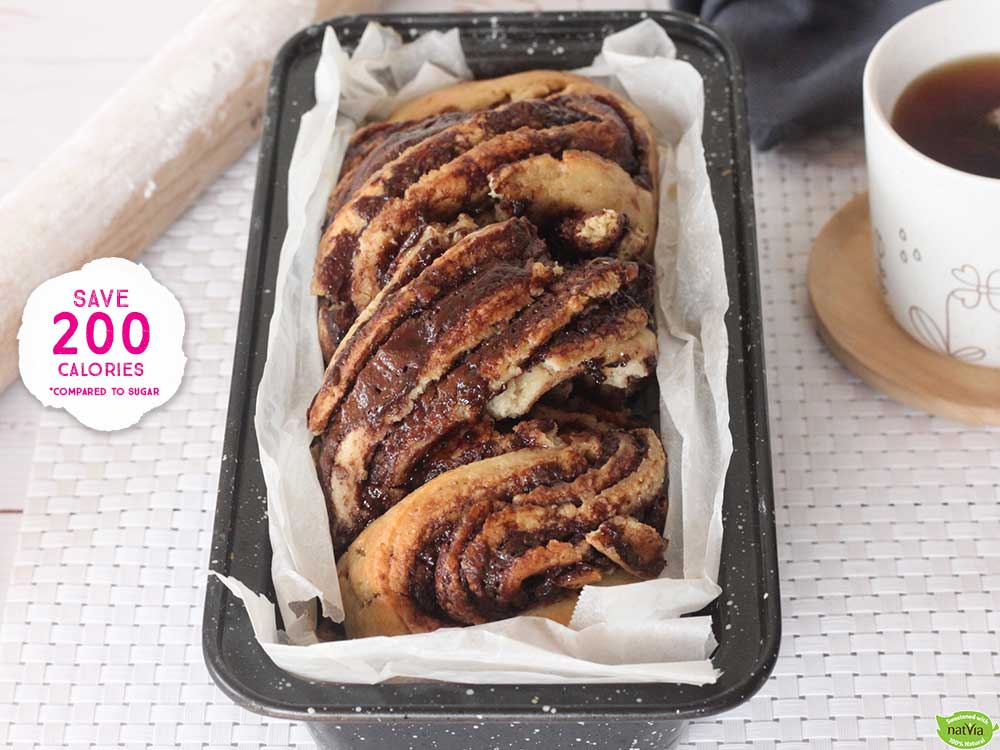 This Chocolate Babka recipe is as good as it looks! This creamy, moist and gluten-free recipe will you have you coming back for seconds! Liked this recipe? SAVE it to your collection. You can find more sugar-free recipes like this one and more over on our Youtube at Healthy Treats.
Serves: 10
Prep: 1 Hour
Cook: 1 Hour 45 Minutes
Ingredients
200 g Flour, gluten-free
200 g Buckwheat Flour
0.25 teaspoon Cream of Tartar
1 teaspoon Yeast
3 tablespoon Natvia
0.5 teaspoon Salt
165 mls Almond Milk
2 Eggs
80 g Butter, unsalted
150 g Nuttvia
1 Egg (at the end)
Method
Preheat the oven to 190C
In a small bowl combine salt, yeast, Natvia and almond milk. Place in a warm area for 5 minutes.
In a large bowl mix together the flours and cream of tartar, make a well in the centre and pour in the eggs, butter and yeast mixture.
Pour the dough onto a lightly floured bench and knead for 5 minutes until smooth.
Transfer back into the bowl and leave to prove, covered in a warm area for around 30 minutes.
Place the now proven dough back onto the lightly floured bench and using a rolling pin, roll the dough into a large rectangle around 30cm by 30cm.
Spoon the Nutvia onto the rolled dough leaving a border of around 5cm around the outside.
Roll the filled dough into a cylinder, making sure the seam is on the bottom.
With a sharp knife beginning about 5cm from one end of the roll of dough, slice along the length of the dough all the way through to the end. You will have 2 strands of layered dough.
Beginning at the intact end, twist each strand gently so that the cut sides of the dough are facing up. Braid the strands gently but securely back and forth over one another until you reach the end.
Tuck the end under the braided dough. Place into a lined bread tin and cover with cling wrap. Leave for 10 minutes in a warm area
Bake at 190C for 10 minutes. Reduce the heat to 180C and cook for a further 35 minutes or until golden.
Once cooked remove from the oven and leave it to cool in the tin for 10 minutes before turning it out onto a cooling rack.
| | | | | | |
| --- | --- | --- | --- | --- | --- |
| Carbs | Pro | Fats | Energy KJ | Calories | Serving size |
| 30.8g | 5.1g | 14.4g | 1120 | 267 | 80g |