Chocolate Orange Biscotti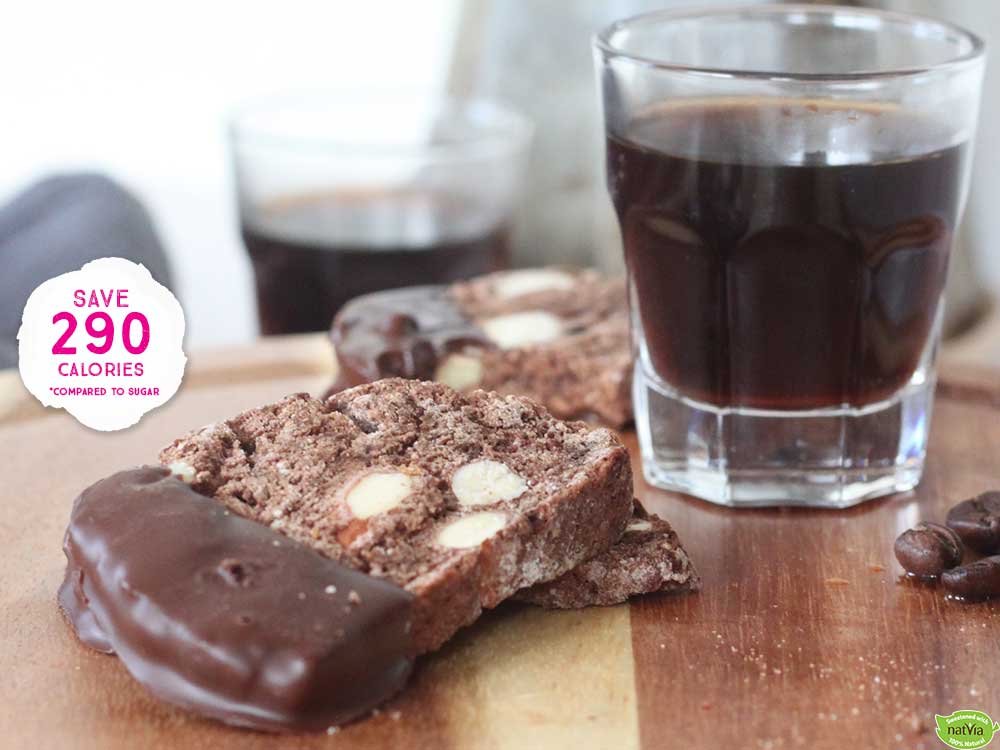 There's no better time to get baking then when you're stuck at home! Try this delicious Chocolate Orange Biscotti for a mouth watering treat! Liked this recipe? SAVE it to your collection. You can find more sugar-free recipes like this one and more over on our Youtube at Healthy Treats.
Serves: 6
Prep: 20 Minutes
Cook: 45 Minutes
Ingredients
150 g Flour, gluten-free
1 teaspoon Baking Powder
2 tablespoon Cacao
0.5 teaspoon Cinnamon
50 g Natvia
75 g Almonds
2 Eggs
1 teaspoon Vanilla Paste
1 tablespoon Orange Zest
60 g Dark Chocolate, sugar-free
40 g Nuttvia
Method
Preheat oven to 160C.
Place the flour, baking powder, cacao, cinnamon, almonds, orange zest and Natvia in a bowl and stir to combine.
Add the eggs and vanilla, stir until it comes together to form a dough.
Pour onto a lightly floured bench and need to combine. Shape into a long log (around 18-20cm).
Place onto a lined baking tray. Bake for 25-30minutes.
Allow to cool completely before thinly slicing on an angle. Place the slices back in the oven for 15 minutes or until crisp. Allow to cool.
Place the melted chocolate and Nutvia in bowl. Dip one end of the biscotti into the chocolate dip and place back onto a lined tray.
Refrigerate for around 20 minutes. Keep refrigerated until you are ready to serve.
| | | | | | |
| --- | --- | --- | --- | --- | --- |
| Carbs | Pro | Fats | Energy KJ | Calories | Serving size |
| 33.7g | 6.3g | 13.8g | 1220 | 290 | 85g |